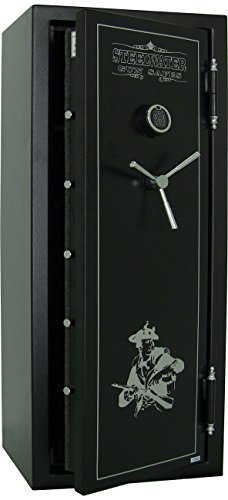 When a gun safe describes itself as being heavy duty, one should immediately question what that means. For the Steelwater heavy duty 20 long gun safe, it means that you'll be receiving a comprehensive safe that can store and protect an average of a dozen long guns. Not only is this gun safe fire rated at 45 minutes of constant 1,550F temperatures, but it even has a locking mechanism that is designed to operate even if an EMP has been discharged.
This gun safe does weigh 425 pounds, so you'll want to pick out where you want it installed and then keep it there. We had the privilege of giving this great gun safe a trial run and here is a brief summary of what our experiences were.
You're not going to pry this door open at all. Steelwater has equipped this gun safe with a total of 9 steel bolts that are 1 inch in diameter. There are 6 active bolts that are chrome plated, with 3 additional bolts for added security on the hinge side that remain inactive. The door itself is made from 12 gauge steel that is 4.75 inches thick. Don't worry about someone with a crowbar prying this safe open any time soon.
You'll need a dehumidifying agent. Steelwater has included a 0.5 diameter hole in this safe for the installation of a dehumidifier and you'll want to take advantage of it. If you don't install a rod, then you'll want to include some sort of moisture absorbing agent or compound with your firearm storage to prevent internal corrosion.
Delivery of this gun safe can be problematic. Steelwater will deliver this gun safe on a full-sized tractor trailer. If you cannot accept this kind of delivery, then you're responsible for picking up the gun safe in some other way. You cannot cancel an order once it has been made because there is an issue with delivering the safe, so double-check what you can accept before you get stuck with a headache.
We loved the keypad included with this design. Instead of a cheap plastic keypad on a solid gun safe like so many other manufacturers include, Steelwater has created a chrome keypad that isn't going to break down on you after a few months of use.
The interior comes fully upholstered. Steelwater has given the interior of this gun safe gray upholstery that will let you safely store your firearms. The shelving included with the safe is also adjustable, so you can store up to 10 long guns in each section – or your other preferred firearms. There's 1 full length self and 4 removable shelves so you can design your interior to best suit your needs.
If you need a comprehensive safe for your long guns, rifles, shotguns, or similar firearms, then we highly recommend this Steelwater heavy duty safe. It is solid, secure, and gives you the right amount of protection.
Click here to check pricing on Amazon and get an awesome deal on the Steelwater Heavy Duty 20 Long Gun Safe.