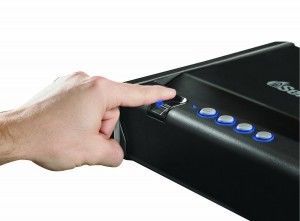 What is a biometric gun safe? In basic terms, it is a biometric lock that allows only approved people to access firearms based on a scan of their fingerprints. Other biometrics, such as retina scanners, are also in development, but for now most people reading the best biometric gun safe reviews are looking at fingerprint scanners. This guide will show you the advantages of such a lock, the science behind it, and why it could be the right investment for you to make today.
The Best Chart for Biometric Gun Safes 
Biometric locks are very distinctive. Some only require one fingerprint to be scanned to open the gun safe. Others require 4-5 fingers to be scanned at the same time. Advanced models also require a combination lock in addition to the biometrics. Which is right for you? The chart below is a great place to start the shopping process.
What Are Biometrics and Why Are They Important?
The way that we verify someone's identity has evolved over the years. In the past, a key was all that was needed to authorize access to a locked door. Then we progressed to locks that involved some type of combination that had to be entered. The next innovation in this industry is biometric locks, which recognize a specific fingerprint as authorization for access.
Biometric gun safes can be a one-step or a two-step process. The first step is almost always verifying your identity by scanning your fingerprints. This can be done through either an optical or a thermal scanner that is embedded into the lock. Once you've done this, you may be asked to input an authorization code just to make sure someone hasn't figured out how to hack the first part of the lock.
For the best fingerprint gun safes, you can authorize multiple people in your family to access the lock so that anyone can grab the firearm in an emergency situation.
This type of lock is important because if you do need to protect yourself, time is of the essence when accessing your gun safe. Quick: where are your keys right now? If you need to search for a key to open your gun safe and there's someone in your home trying to hurt you or your family, then you're already at a disadvantage. With an easy-access feature on a biometric lock, all you've got to do is scan your fingerprints and the lock pops open.
The Pros and Cons of Investing In the Biometric Gun Safes 
The primary advantage of a biometric gun safe is that you don't have to worry about keys any more. As long as you are an authorized user of the gun safe, you'll be able to access the firearm and the other contents in the safe when needed. Yet if the biometric lock fails for some reason, either from battery failure or some external cause, there key access that is available as an emergency backup just in case.
The primary disadvantage is that your fingerprint scan must be 100% accurate at all times for access to the gun safe. If you have a paper cut on your finger, it could be enough to throw off the biometric scanner and void your entry. This is where the best biometric gun safe reviews can be used to your advantage. You'll be able to shop for a lock that won't reject you just because life happened and you got a scratch on one of your fingers.
In return, you'll be able to reduce the risks of replication when it comes to accessing your gun safe. Unless the fingerprints have been authorized, the only way to open up the safe is to have the emergency backup keys or to find a way to pry open the safe in some other way.
How to Find the Best Biometric Gun Safe for Me 
Just about any size or style of gun safe can be equipped with a biometric lock. This means you can have an in-wall biometric gun safe just as easily as you have a portable gun safe for your vehicle. Finding the right safe means going through the best biometric gun safe reviews to locate the make and model that has the capacity you need.
Speaking of capacity, it is important to shop for a gun safe that is a little bigger than you anticipate needing. This is because the capacity measurements of a safe in terms of how many guns it can store is based on the maximum number of possible. A rifle safe, for example, might store 24 single action lever rifles. If you have scopes or semi-automatic rifles to store, you'll find the guns take up more space and you won't be able to store the full two-dozen.
The final consideration is reliability. A biometric gun safe must not only protect your firearm from unauthorized use, but it must also be able to function reliably. Public reviews are a great way to see what real customers of your preferred biometric gun safe have to say about their experiences with ownership. It's not the same as trying it before you buy it, but for an online purchase, that's about the best you'll be able to get.
What Are the Prices of the Best Biometric Gun Safes? 
Biometric locks drive up the cost of a gun safe by $100 or more on average. If you're looking for a portable gun safe that holds one firearm, for example, a basic locking safe might cost $50. Adding the biometric lock to it will make the retail price closer to $150.
Just about any style of gun safe can be equipped with a biometric lock. Even the largest double-door vault safes with a retail price of over $1,000 can have its security enhanced by a biometric lock. That means it is up to you to determine the size and features you'll need to protect your firearms.
What Do Our Reviews Have to Say?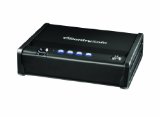 This small biometric safe is designed to give a single firearm the protection it needs from curious fingers. It can hold a full-sized semi-automatic handgun and maybe a few spare rounds or an extra mag. We really love how quietly the entry process is to this gun safe. If used to store a defensive firearm, you'll be able to quickly grab your gun without alerting an intruder to what you are doing. You can store it inside a drawer thanks to its lightweight nature. Single-handed access is even available for an emergency situation. It's a fair price for solid craftsmanship.
Click here to check pricing on Amazon and get an awesome deal.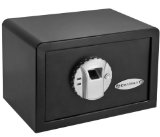 Most small biometric gun safes are designed to be stored in a drawer. We love the fact that this one is designed to mount in just about any location you may prefer. It holds up to 30 fingerprint scans, so everyone in the family can be authorized to access this safe if you want. The installation process is pretty simple if you plan to mount the safe, but it's sturdy enough to stand on its own if that's what you prefer as well. Internal hinges and a double-bolt lock finish off the security enhancements. At this price point, it's tough to find a better safe than this one.
Click here to check pricing on Amazon and get an awesome deal.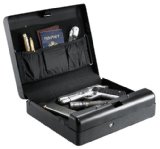 When something says that it is "virtually impossible" to pry open, we like to take that challenge head-on. We did our best to open this biometric gun safe without using the lock and all we ended up doing was breaking a screwdriver and added a couple scratches to the safe itself. This model has enough space to store a handgun or two plus a couple spare magazines. There are pockets for your identification and other essential documents as well. The high-strength lock supports the 18 gauge steel exterior for a very secure experience. This is easily one of the best biometric gun safes on the market today.
Click here to check pricing on Amazon and get an awesome deal.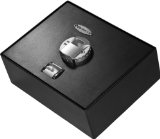 Most gun safes open from the side, so when we got the chance to give this top-opening model a trial run, we were curious to see how it would affect accessing a firearm. To be honest, the process was a bit uncomfortable at first, but as we got used to the design, we began to see its advantages. You can store your firearm in an easy to draw position so you can just grab and go. A floor mat protects your firearm and deadbolt lock is motorized so you don't have to worry about jamming it closed manually and not doing it right. Mount this on the floor or a low-hanging shelf for best results.
Click here to check pricing on Amazon and get an awesome deal.

Don't store your rifles with optics in this gun safe. We say this if you have more than two rifles to store and both have optics equipped. You'll need to flip the rifles around to store sideways if you have optics on your rifle because of the small capacity of this safe. It won't hold more than two rifles if you have them installed in this way. Although it will get the job done, we see this gun safe working better for rifles that have no optics or modifications that change its profile.
Click here to check pricing on Amazon and get an awesome deal.
The best biometric gun safe reviews will help you find the right safe with the right level of security for your home's needs. Biometrics help you to personalize access to your firearms. Don't risk having a key get lost or forgetting a passcode during an emergency. With a biometric lock, just scan your fingerprint and you'll be good to go.