When you think of personal protective equipment for shooting, hearing protection is usually the first thing that comes to mind. Though having the best eye protection for shooting should also be part of your basic equipment before you go out to get some practice in. Many ranges will even require you to be wearing shooting glasses before they'll let you begin using your firearm. This guide will help you find the right eye protection for your specific needs.
The Best Chart for Shooting Glasses
The best eye protection for shooting can take on several forms. What is most important is that the style of glasses you choose can work to protect your sight from harm. The chart below has the products that have been proven to work consistently so you can be properly protected while you practice.
How to Find the Best Eye Protection for Me
The first thing you'll want to look at when shopping for the best eye protection for shooting is to see if they meet the standards of the American National Standards Institute (ANSI). https://www.ansi.org/ This rating takes into account the protection the glasses can provide, their overall comfort level, how secure they sit on your face, if they can be disinfected, their durability, and if they can fit over the glasses you need to wear because of your eyesight. When you see ANSI rating standards apply to shooting glasses, then you know you've got a good pair.
You'll also want to look for some specific features in your shooting glasses. Aviators might look cool, but they don't really provide much protection. Your eye protection should have side shield, be made of materials that will hold their shape and not break, and have a wrap-around design so they stay in place while you deal with the recoil of your firearm.
An added advantage comes when your eye protection has features like being impact or scratch-resistant. That way your glasses will never impact your field of vision as you're trying to practice, compete, or hunt. It's also a good idea to look for glasses that have spring hinges, as this will make the eye protection a little more durable.
The Advantages of Using the Best Eye Protection for Shooting 
Many shooting glasses come with a different lens color. You'll find that different colors have certain advantages that come with them. The best eye protection for shooting will have interchangeable lenses which allow you to swap out different colors as needed based on what your activities happen to be. If you're on a budget and only want to purchase one pair of shooting glasses of a specific color, then here are the colors to consider and the advantages you'll receive.
Grey. These lenses do a great job of blocking the glare of sunlight when the day is rather bright. They're perfect for outdoor shooting ranges or hunting without a canopy overhead.
Red. This color tends to highlight light-colored targets against backgrounds that are darker. These are usually reserved for hunting only.
Orange. These lenses block blue colors, so they're great for cloudy days when visibility can be difficult.
Yellow. These lenses provide more contrast, reduce white glare, and enhance yellow and orange colors. Brighter lenses in this color enhance the light at night. As an added benefit, they also reduce eye fatigue for those who work at a computer for long periods of time.
Ice. These lenses tend to provide users with a true sense of color.
Copper. This is an all-purpose lens that is appropriate for all conditions. 
Each of these lens color options will also come with mirrored or polarized lens features to further help reduce glare if needed. Polarized glasses can take some getting used to wearing because you can see the polarization pattern in glass windows when wearing them. A mirrored coating helps to reflect some of the incoming light to reduce glare that may be in your field of vision.
As a final consideration, you'll also want to look at whether or not your shooting glasses have an impact rating. Your sunglasses, for example, are non-impact rated. The reason why impact ratings are so important is because ammunition can ricochet, casings can fly out to hit you, and even powder can come out of the gun. If your eye protection can't withstand the impact, then you're not really wearing eye protection.
One Overlooked Point in Many Eye Protection Reviews
Shooting glasses must be impact resistant. They should have the best lens color for your current circumstances. What is often overlooked is the energy absorption that a pair of shooting glasses can provide. How the lens and the frame of the shooting glasses transmit the energy received from stray fragments or other debris will affect how much damage your glasses and ultimately your face receives.
Most cheap eye protection options have very little, if any, energy absorption features. Although the need to have this feature is not present at all times, the thought of having a lens embed itself into your eye because it took an impact it wasn't rated to take is not a pleasant thought.
What Are the Prices of the Best Eye Protection for Shooting?
Shooting glasses can be found for a little as $5-$10 if you're looking for a basic plastic pair. These entry-level glasses aren't very durable as eye protection, but can work in an emergency if you've forgotten your regular pair of shooting glasses somewhere.
High end eye protection can cost over $200 depending on the brand. Most shooters are going to be able to find a great pair of shooting glasses for $40-$80 and that will protect them while shooting in the color preference of their choice.
What Do Our Reviews Have to Say?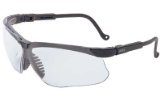 We love these shooting glasses because they aren't overly bulky; yet still give you the wrap-around protection that you're going to want. They also have an adjustable temple length in their design so you can receive the ultimate in a comfortable fit. This also means your peripheral vision will be free of interference from your glasses. The lenses also have an anti-fog coating and have ventilation incorporated into their design to prevent condensation build-up. If you've struggled with other glasses in the past, give these a try and we think you'll be pleased with the results.
Click here to check pricing on Amazon and get an awesome deal.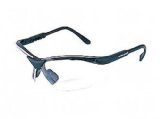 The problem we often run into when wearing the best shooting glasses is that they tend to interfere with our hearing protection choices – especially earmuffs. These shooting glasses do not to that at all. The sides are extendable and quite thin so you might even forget that you're wearing glasses sometimes. At 3 ounces, they are extremely light and won't put pressure around your nose to create sinus pain like some other glasses tend to do. As an extra bonus, they look pretty stylish and come with a variety of lens colors so you might be tempted to wear your new glasses every day instead of just at the range.
Click here to check pricing on Amazon and get an awesome deal.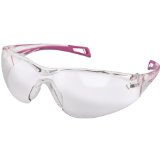 If you don't go shooting on a regular basis, then these might just be the best shooting glasses for you. They incorporate the benefits of a one-piece design, yet the rose coloration makes them suitable for daily wear if necessary. Rubber pads are strategically placed to enhance the comfort and a PVC nose piece helps to take some pressure off the nose. They stay in place, aren't too tight, but aren't too loose either. They resist scratching as well, and considering the entry-level price, it's a pretty good deal that you're getting.
Click here to check pricing on Amazon and get an awesome deal.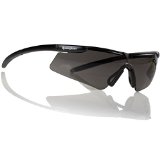 These are the best impact-resistant shooting glasses that we've tried on in a long time. The wrap-around lenses don't have the tapering that other brands have, helping to keep your eyes better protected. The surface is scratch-resistant with a hard coat that really works, giving you a reliable experience every time you head out to the range. They're a little tight around the ears if you have a hat size larger than 7.25, but that's really our only complaint with these shooting glasses. They get the job done and that's really all you can ask of any product.
Click here to check pricing on Amazon and get an awesome deal.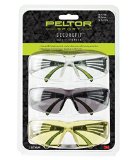 What's better than purchasing one pair of shooting glasses? Purchase 3 pairs! We like this idea for beginners who haven't worn shooting glasses in the past. You receive 3 lens colorization options so you can experience the benefits of each type of lens to see which is right for you. Despite the value pricing, you still receive a high impact-resistant product that will help you shoot comfortably while providing a secure fit through the entire process. We did notice that they tend to fog up, especially during the early morning or high humidity days, but that's really our only complaint.
Click here to check pricing on Amazon and get an awesome deal.
The best eye protection for shooting will help to protect your eyes while you hunt or practice at the range. Slip on a comfortable pair of glasses, find a pair that works over your prescription lenses if necessary, and you'll be able to focus on enhancing your shooting skills instead of worrying about protecting your eyesight from harm.