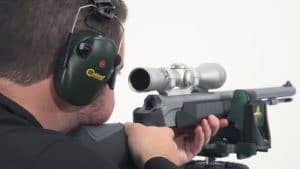 Your hearing is one of the most important senses you have. Unfortunately far too many gun enthusiasts don't take the protection of their hearing as seriously as they should. Just one shot next to the ear is enough to make the ears ring for days on end. Once you lose hearing in certain frequencies, it never naturally comes back. That's why the best ear protection for shooting is something that every gun owner should consider using.
The Best Chart for Ear Protection 
Shooting a firearm is a popular activity today. It happens in abandoned quarries, backyards, and public gun ranges. Many American gun owners have some form of hearing loss because of their love of firearms. (http://www.nidcd.nih.gov/health/inside/spr06/pages/pg2.aspx) That's why the chart below is filled with proven ear protection products that will help to protect your hearing.
Why Ear Protection for Shooting Is Important
How loud can your gun actually be? Every firearm is a little different and even different ammo can create sound changes, but one fact is certain no matter what the gun/ammo combination happens to be: the sound is louder than you might think.
Sounds from a firearm are measured by frequency, duration, and intensity. Hearing damage from loud noise exposure begins at 85 dB, but it takes up to 8 hours at this exposure level for damage to occur. For every 3-5 dB increase that occurs, the amount of time it takes to cause damage is cut in half. Just jumping from 85 to 90 on the dB meter will cut 4 hours off of your safe exposure time.
By the time you reach 130 dB, it becomes possible for hearing damage to occur instantly. That's about the equivalent of standing next to a jet engine as it is powering up. For many firearms, the noise exposure that is received can be as high as 150 dB.
This means that even though the sound of a gunshot is only a fraction of a second in length, it is at such intensity that the shooter's hearing can be permanently damaged. It also means that anyone within a few feet of that gun can also experience permanent hearing loss. That's why the best ear protection for shooting is so important.
How to Find the Best Ear Protection for Me
Hearing protection devices can effectively reduce noise levels from a gun being fired into a safe exposure range. When shopping for hearing protection in this category, you'll find that there are three general categories that the products fall into.
Earplugs. These are usually made from foam, but some are made from silicone or wax. Most options are disposable in this category and you just stick them into your ears. In return, you can drop your dB exposure below immediate damage thresholds for about the price of a cup of coffee.
Earmuffs. This is the most common option for shooters because they're reusable and fit comfortably like a pair of over-the-ear headphones. With the right level of proactive care, one set of earmuffs can last for years. You'll receive the same level of noise reduction as you would with the earplugs.
Electronically enhanced. These hearing protection devices can be worn like earplugs or like earmuffs, depending on the make and model of the product. They're outfitted with microphones and speakers, allowing them to immediately eliminate sounds that could cause hearing damage. Some even offer counter-noise, such as a boost in the ambient environment, at the same time. This is usually the most expensive option in this category.
Each style offers the opportunity to protect your hearing effectively. The goal should be to not lose your hearing while you're doing something that you enjoy. Considering it only costs a quarter for a set of foam earplugs when you purchase a bulk pack of them online, there really isn't much to lose and there is everything to gain. 
Why You Need to Protect Your Hearing Right Now 
Many people picture hearing loss as having the ambient sounds around them growing quieter and quieter, much like turning down the volume on your radio speakers or TV. It doesn't work that way unfortunately. Most people don't even notice that they're hearing is being damaged until they can no longer hear anything within a specific range. If you've been firing a gun without hearing protection, then it is important to have your hearing professionally checked to determine if any gaps are present.
It's also important to begin protecting your hearing right now. Some might think that their hearing will just get tougher with consistent noise exposure. It doesn't. Your hearing just stops working altogether.
Hearing loss can also be painful and annoying. A condition called tinnitus creates a ringing sound in the ears that can be intermittent or never go away. Everyone has their ears ring from time to time, but if this sound is heard consistently when no sound is present, then this may be an indication that hearing loss has already occurred.
What Are the Prices of the Best Ear Protection for Shooting? 
You can purchase a bulk pack of foam earplugs for under $10 today on Amazon. In return, you'll usually receive between 6-25 sets of foam ear plugs that can be compressed so they fit into your ear canal.  This will help bring the report from the firearm to safer, more muffled levels.
Most earmuffs can be found in the $10-$50 price range today, both online and in stores. Some models include a radio connection and this adds about $75 to the price of the earmuffs. Higher dB reduction ratings also typically bring a higher retail price.
For the electronically enhanced earmuffs, some advanced models cost in excess of $1,000. Most shooters will find a good pair in this category for between $150-$300, depending on the exact features they want. That's where you need the best ear protection reviews to help you figure out which product can effectively meet your needs.
What Do Our Reviews Have to Say?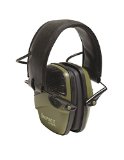 This is a consistent #1 bestseller for ear protection because it gets the job done without destroying your budget. Not only does it filter out sounds above 82 dB, but you can also input your own audio into these electronic earmuffs so you can listen to your favorite playlists while you are shooting. A 4 hour automatic shut-off helps to prolong battery life. The microphones also do a great job of amplifying voice tones and other environmental ambiance so the atmosphere seems natural while you are shooting. Once you try these, you won't want anything else.
Click here to check pricing on Amazon and get an awesome deal.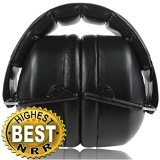 Sometimes you want to muffle the loud sounds of the gun range so you can have a true focus on the skills you're working to improve. That's what these earmuffs are designed to do. With one of the highest noise reduction ratings in the industry today, you'll find that these compact earmuffs do a great job of reducing the gunshot reports so your ears aren't ringing after a long practice session. They have a snug fit that isn't uncomfortable thanks to the thick layer of padding incorporated into the design. Despite its price, this really is a long-term investment option.
Click here to check pricing on Amazon and get an awesome deal.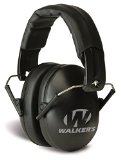 Snug earmuffs can sometimes put too much pressure on your head, leading to a tension headache that can knock you off your feet for the rest of the day. Padded earmuffs might not sit properly over your ears, removing their noise reducing effectiveness. If you've struggled with other entry-level noise reducing earmuffs in the past, we recommend giving these a try. They're very lightweight, are super comfortable, and the cost is about equal to the price of lunch with your co-workers. We weren't disappointed and believe you will be equally impressed.
Click here to check pricing on Amazon and get an awesome deal.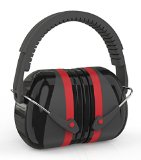 Have you found that other noise reduction earmuffs don't work very well? These earmuffs will literally silence your world and there is a guarantee backing this claim. If they don't work for you or the fit is uncomfortable, you get your money back. We like the fact that the design is naturally comfortable instead of trying to use compression padding to encourage a better fit. This reduces the amount of sweat you feel on your head as you shoot. How good are these earmuffs? We decided to keep them after our trial run. You won't be disappointed.
Click here to check pricing on Amazon and get an awesome deal.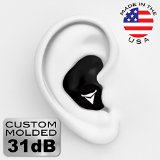 If you don't like earmuffs and earplugs just aren't in the cards for you, then consider this custom molded product to filter out unwanted sounds instead. You can remold these earplugs as needed for the best fit possible, making them perfect for shooting. Unlike foam disposable plugs, they don't have the propensity to fall out on you at the worst moments. A little hot water is all you need to get the best shooting ear protection that you may have ever experienced.
Click here to check pricing on Amazon and get an awesome deal.
The best ear protection for shooting will help you maintain your hearing health in a way that won't make your budget cringe. Once your natural hearing is gone, then it is gone for good. Don't think that your hearing is immune to the loud gunshots you'll hear at the range when you practice. It is not. These products will help you to preserve this sense so that you can pursue your love of shooting as often as you wish.