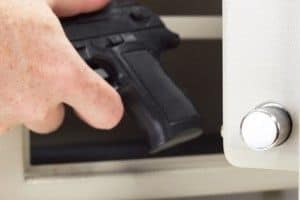 Big guns need a big gun safe. Handguns and pistols, however, don't always need to be stored in the largest gun safe you can afford. The best small gun safe is able to provide you with the same level of protection as its larger counterparts, yet give you a level of safe portability for your firearm as well. If all you need to do is safely store a small firearm, the best small gun safe could be the perfect investment for you.
The Best Chart for Small Gun Safes 
Many small gun safes have several features in common. This may include biometrics, fireproofing, and portability assistance. Because many of these safes have a somewhat similar design, it is important to compare the quality of each model before purchase. The chart below will help you start that process.
The Advantages of the Best Small Gun Safe
When you start looking at the small gun safes that are great for a firearm or two and maybe a few rounds of ammunition, you'll notice that there are 3 basic designs that are available today. Each design has some specific pros and cons.
Gun Vault Design
Pros: This gun safe can be mounted on a wall, a door frame, or any other place you have an interior stud. You can use a combination lock for this safe or upgrade the design to use biometrics. Upon opening, the firearm is delivered in such a way that, if loaded, you can use it immediately.
Cons: Most gun vaults for home use will only hold one firearm with the clip or magazine inserted already. If you don't affix the vault to a wall, there is a good chance that it could be stolen quite easily.
Mini Safe Design
Pros: This design gives you more of the "box" feel to a gun safe. It's more nondescript, so it won't stand out if a burglar enters your home. You have biometric options, keyless options, and a backup key system on many models. You can also typically store 1-3 firearms with ammunition due to the size of this gun safe.
Cons: Many of these gun safes are designed to sit on their own and contain no mounting hardware. When a biometric lock is included, someone will know that you're storing firearms within it. They can then just pick up the box and leave, effectively disarming you.
Portable Design
Pros: This gun safe design allows you to safely take a firearm with you in a vehicle, when you have a concealed carry permit, in most states. It has fireproofing included and you have keyless or keyed entry options as standard. These are also the most affordable gun safes that are on the market today.
Cons: This gun safe might be the most affordable, but it also provides the least amount of protection. If you lose your keys, then the person holding them can potentially access your firearm. If stored in a vehicle that means your kids might be able to access the firearm, despite it being locked up.
How to Find the Best Small Gun Safe for Me 
We all need to think about personal protection these days. Whether you believe the government wants to take away your guns or you just want an insurance policy against intrusion at home, the best small gun safe will help you achieve the level of protection you feel is necessary for your safety. The best place to start is with real reviews from people who have used and/or purchased the gun safe you're interested in purchasing.
You'll also find that many small gun safes are specifically designed to hold a particular firearm. You'll want to make sure your firearm will work with the gun safe you're looking at before finalizing any purchase.
It's also important to think about the type of lock you'll want to have for your gun safe. If you live on your own, a basic keyed lock might be enough. If there are kids in the home, then a biometric lock may be a better option. Combination locks that force you to input a specific code can also provide a certain level of added security when needed. As a rule of thumb, it is a good idea to invest into the best lock your budget can afford.
What Are the Prices of the Best Small Gun Safes Today? 
If you're looking at a basic keyed small gun safe, then you may be able to find one for around $50 that can meet your needs. On the other end of the pricing spectrum, gun vaults that have a biometric lock may cost upwards of $300. It all depends on how many firearms you'll want to store, what kind of lock you feel is necessary, and whether or not you feel like it is important to mount your gun safe to the wall or floor.
Most households will find a suitable gun safe that meets their needs for an average price of $175. If all you need to do is store a single firearm and a spare mag or two, you could find something in the $100 price range that will effectively work for you.
What Do Our Reviews Have to Say?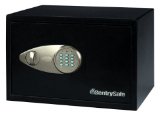 This small gun safe offers users two live-locking bolts and internal hinges for some added security against being pried open. Its size lends to the idea that someone could just pick up the safe to make off with it, but part of the practical design of this small safe is that it can be bolted to the floor. At 19 pounds, however, it could also be an effective drawer gun safe if you have such a need. There is felt on the interior of the safe to further protect your firearms during the storage process. Just remember to keep your key on the outside of the safe in case the battery dies on the keypad.
Click here to check pricing on Amazon and get an awesome deal.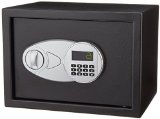 You'll likely want to mount this security safe if you're planning on using it to store firearms. There are four holes in the back of the safe and more in the bottom of it, allowing you to place it on a floor, wall, or shelf pretty easily. You have direct access to the contents of the safe through these holes, which is why this protection is not fire resistant or waterproof. Mounting it improves these qualities and helps to deter people from just picking up your safe and taking off with it.
Click here to check pricing on Amazon and get an awesome deal.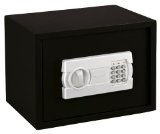 With a foam padded bottom and shelf, this is one of the easiest storage solutions for a small gun safe you'll find on the market today. The electronic lock is easy to program and offers a 10 digit keypad instead of the standard keyless entry lock. A time-out period automatically runs once 3 incorrect codes are entered into the keypad for another level of security. The two live-action locking bolts get the job done and like many safes in this category, there are internal hinges. The plastic interface seems cheap at first, but it works just fine for daily use and we had no overall complaints.
Click here to check pricing on Amazon and get an awesome deal.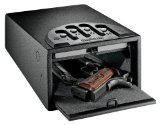 This might be the best small gun safe just because it gives you so many different options. The top-loading design allows you to store this safe under the bed, mount it vertically on a wall, or even horizontally to your floor. The interior has soft padding while the exterior is rock-solid. The keyless entry is designed to be useful even in the dark with the finger positioning on the top of the safe. Tamper indicator lights even let you know if someone has tried to access your vault without your permission. At this price point, the value received for all of these features is almost beyond compare in this gun safe category.
Click here to check pricing on Amazon and get an awesome deal.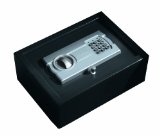 You can override this gun safe with a simple paper clip. This isn't supposed to be an all-in-one security solution for your firearms either. It's supposed to help you keep your gun away from curious fingers who might want to play with it. If you're really concerned about this issue, a small dab of epoxy over the access point will solve the issue or you can contact Stack-On for a replacement lock that isn't as vulnerable. At 12 pounds, it might be a little heavy for some drawers, but overall it's a great place to store a defensive firearm. The positives far outweigh the negatives, so we highly recommend giving this small gun safe a second or even a third look.
Click here to check pricing on Amazon and get an awesome deal.
The best small gun safe will secure your firearm without restricting your access to it in needless ways. Look for solutions like these through the best gun safe reviews to find the right product with the features you need at a price you want. Size might matter sometimes, but it doesn't here, and these gun safes are proof of that.