The best Inside-the-Waistband (IWB) holsters are designed to help you concealed carry your firearm with ease. IWB holsters can be made from several different materials and have several different features from which to choose, so it becomes important to review each holster to see if it can meet your needs. You should be comfortable, secure, and be able to draw your firearm quickly in an emergency. This guide will help you to find the best IWB holsters that can meet your personal needs.
The Best Chart for IWB Holsters
When granted a concealed carry permit, you will likely be required to keep your firearm hidden from sight at all times. Some IWB holsters do a better job of this than others. The chart below has the best options we've found to not only fit your body type, but make sure you're still comfortable while wearing the holster.
What Is an IWB Holster and Why Do I Need One?
The best Inside the Waistband holsters are designed to ride between your undergarments and your pants or trousers. Most of the holsters with this design will also offer you a shirt tucking feature so that you can still present a clean, professional appearance while carrying your preferred firearm. Although many holsters in this category are made from leather, nylon, or kydex and are worn like a belt inside the pants or trousers, a new design incorporates a form-fitting rubber, neoprene, or elastic belt that has holster placements on it for greater comfort, but sometimes added sweat at the holster location.
Holster placement is also important when considering what IWB holster could be the best one for you. If you think about where a belt buckle would sit if worn as being the 12 o'clock position, then right-handed shooters will usually carry at either 7 or 9 o'clock, while lefties tend to carry at 3 or 5 o'clock. Look for options with the best IWB holster that will give you a little flexibility with this positioning so that you can always have a comfortable draw.
As for why the best IWB holster is needed, it is because you need a comfortable way to carry your concealed firearm after receiving your permit to do so. Allow about 2 weeks with your new holster to make sure you can get comfortable with it before making changes to how you're wearing it so you don't keep fidgeting with how it is worn. You may also find that if you have multiple models of firearms, you may need a specific holster for each one.
The Features of the Best IWB Holsters
One of the unique features of an IWB holster is the one that clips to your belt. This allows you to concealed carry or open carry depending on your preference for the day. This type of holster tends to be lighter, especially when made from nylon, but still gives you an easy draw should you need to defend yourself for some reason.
The problem with IWB holsters that just clip to pants or a belt is that they can be easy to remove if someone goes for your firearm in a fight. To disarm you, they just need to unclip the holster. Look for locking options with your preferred make and model to avoid this potentially dangerous situation. Hybrid holsters with a double clip and wider placement tend to give you the most stability.
Many IWB holsters use compression or spring clips in order to secure the holster to the belt and the gun to the holster. It is important to look for corrosion-resistant clips here to maintain the integrity of your holster, but it is equally important not to settle for a cheap plastic clip that could break off if you find yourself in a fight for some reason.
How to Find the Best IWB Holster for Me
Because IWB holsters can be precision molded or so generalized that just about any firearm can be carried, it is important to look at real user experiences when shopping for your next holster. Public reviews are a great place to get started with this process, but you'll often see a few inaccurate reviews simply because some folks aren't familiar with the basics of what a holster can do.
That's why websites that offer comprehensive reviews from trial uses of the best IWB holsters are important to add to the shopping process. You can't really try on a holster before you buy it when shopping online, so each set of reviews can give you an important look at what you could expect the holster to do.
Once you receive the holster, it is important to try it on immediately. If you need to break in the holster, wrap your firearm in a plastic bag and let it sit in the holster overnight. Wear your holster for a few days. If it isn't comfortable, then use the return policy to send it back so you can find a holster that is better suited to your needs.
What Are the Prices of the Best IWB Holsters Today?
Most people are going to find an IWB holster that meets their needs for under $50 today. When made from nylon or kydex, the holsters tend to be a little cheaper if they have a standard design. You'll find some exotic IWB holsters on the market today that cost above the $100 mark and many hybrids tend to be priced in the $60 range. As long as the clips are strong and corrosion-resistant, however, this holster will likely be the last one you need to purchase for your firearm.
What Do Our Reviews Have to Say?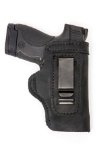 It doesn't get much better than this for an IWB holster. The metal clip is formed in such a way that it will easily stay on your belt. The holster itself is made from real leather instead of a synthetic so you receive an added level of stability. It works with the S&W 9mm or 40. We found that the ride of the firearm was a little high for our personal preference, but otherwise the carrying experience was as expected. The slim profile is easily the best feature of this holster and will prevent people from realizing you're carrying.
Click here to check pricing on Amazon and get an awesome deal.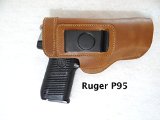 This leather holster is tough, but not in an uncomfortable way. We love that it has at least some level of flexibility in that it can fit many of the larger guns that are on the market today. The trigger coverage is exactly what you would expect, but the holster itself doesn't really feel bulky at all. We wish the same level of care went into the clip as it did the rest of the holster, but that's really the only complaint that we have. This holster is comfortable, effective, and it can stand up to the wear and tear of daily use, making it perfect for your concealed carry.
Click here to check pricing on Amazon and get an awesome deal.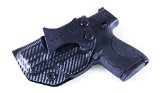 If you'd prefer more of a molded holster for your IWB experience, then we highly recommend this holster. Made from kydex, this holster weighs just 2 ounces. What we love the most is the variable cant, giving you up to 15 degrees of adjustment so you can have the specific draw with which you're the most comfortable. American gun owners are going to love the fact that this holster is handmade in the US. Best for firearms that have a small frame.
Click here to check pricing on Amazon and get an awesome deal.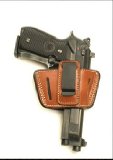 This universal holster is one of those designs that you're either going to love or you're going to hate. This is a basic slide-type holster with belt slots that are only 1.5 inches in size, so your IWB options are a bit limited. There aren't any catch points on the holster and the leather itself is reasonably finished. You can carry a full-sized handgun in the holster, but the barrel has no protections so without a correct draw, you can catch the gun on the edge of the holster as you bring it up. The trigger is adequately protected.
Click here to check pricing on Amazon and get an awesome deal.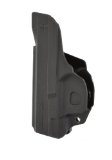 We really love how thin this IWB holster happens to be. It's one of the most comfortable holsters in any category that we got to try and leaves minimal printing on your clothing so detection is virtually impossible. Your gun locks into this holster with a click and stays secure, yet drawing is still just as easy as it would be with any other holster. You can even carry it on your weak side for a cross draw if you prefer. It works with belts that are up to 1.75 inches in width.
Click here to check pricing on Amazon and get an awesome deal.
The best IWB holsters will make your concealed carry experience comfortable and enjoyable on a daily basis. Make sure your firearm is properly secured and your holster is designed to work with your preferred gun so that the experience can always be a positive one. When you do, we think you'll agree that this is an investment that makes sense today.