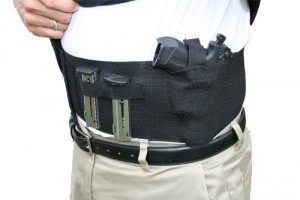 When it comes to personal defense, many folks focus on the firearm as the most important purchase they could make. As concealed carry permit regulations are loosened in the United States, it is also becoming just as important to know how to find the best concealed carry weapon (CCW) holsters. CCW holsters are the interface between your body and gun, and a vital part of your self-defense strategy. If the holster is uncomfortable or makes it difficult to draw your firearm, then your strategy could be compromised.
The Best Chart for Concealed Carry Holsters
You'll spend hours researching firearms to find the right one. The same consideration should also be placed on your holster. The chart below includes some of the best options the industry has to offer today, so that you can see which concealed carry holster will fit your needs right now.
What Is a Concealed Carry Holster and Why Do I Need One? 
If you've been granted a concealed carry permit, then you've been granted permission to securely carry a firearm when you're out in public. In some jurisdictions, a CCP is also necessary if you plan to keep a firearm locked in your vehicle. This means you must have a holster that can be worn comfortably under clothing, yet still be accessible to you should you need to draw your firearm for some reason.
You'll find that concealed carry holsters can be sorted into general categories based on the composition of the holster itself. Here is how you can begin the shopping process for your new holster today.
Materials. Most concealed carry holsters are made from either nylon or a material called kydex, which is actually a type of plastic. Leather is also a common material for holsters, but tends to be a little more expensive than the other two. Leather tends to conceal better, but can take some time to break it in.
Retention. This refers to how the holster keeps your firearm securely in place. You'll find rotating hoods, tension screws, thumb breaks, and several different types of locks are all available. The goal here is to make sure no one can just grab your gun, but you can still quickly unlock your firearm should the need arise.
Placement. Holsters are designed to fit a specific part of the body. For concealed carry purposes, you'll find inside the waistband [IWB] holsters are very common, but shoulder, back, and ankle holsters may also apply. 
When shopping for a new concealed carry holster, the one place you probably want to avoid carrying your firearm is the small of your back. This placement has the longest draw when trying to defend yourself. You can also severely injure yourself in a fight if you happen to be thrown on your back with the firearm in the holster. This particular carry location also tends to leave an imprint whenever you lean forward. 
How to Find the Best Concealed Carry Holster for Me
The best concealed carry holster is going to provide you with a balance between accessibility and concealment. It must be comfortable enough that you'll actually want to wear the holster every day, but still keep your firearm secure as you go about your daily business. Because different people have different needs in these areas, you'll find that CCW holsters tend to offer several different features in multiple combinations to provide the best balance possible.
Automatic Locking. This feature allows for the holster to engage the trigger guard as the firearm is holstered. In doing so, the firearm is effectively locked into place until you release the gun from the holster.
Belt Loops. If you don't like the idea of an IWB holster as your concealed carry option, then look for a holster that includes belt loops for a secure fit. Clips or paddles may be present instead of loops for faster on-and-off of the holster, but this sacrifices some of the stability of the firearm.
Detachable Slides. This feature gives your holster an extra level of versatility. Not only can it function as a standard holster, but you can also slide your belt through the holster itself for a very secure placement.
Hook Backs. This allows the concealed carry holster to be placed at virtually any angle for easy retrieval. Many of the holsters with this feature tend to be made from nylon.
You really can't underestimate how important it is to carry your firearm comfortably in the right holster on a daily basis. Not only will this allow you to access your gun in the unlikely event that it should be necessary, but you'll also have the ability to carry your weapon securely without worrying it will fall out on you for some reason. 
What Are the Prices of Concealed Carry Holsters Today? 
Holsters that are made from nylon or kydex tend to be the most affordable in this category. You can often find an adequate holster in these materials for $30 or less. Having a leather holster tends to add about 30% to the cost of your preferred holster design with features. If you want a full-featured leather holster with multiple carry options, you may find some premium options around the $100 price point.
Most with a concealed carry permit can find a holster that meets their needs for $50 or less with the exact features they want.
What Do Our Reviews Have to Say?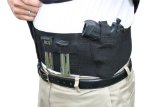 This holster has placement options for two spare magazines. You can also choose to carry your firearm loaded for a third magazine. An elastic strap comes over the back of your firearm above where you would load it to keep your weapon secure. The spare mags then drop into similar holders. The spares feel a little loose at first, but you get used to it. You could purchase a couple Velcro straps if it becomes too bothersome. If you're wearing a tight shirt over the holster, people will be able to see the bulge. From our experience, we recommend wearing an un-tucked dress shirt or Polo over the firearm, followed up by a jacket of some type, to reduce the appearance as much as possible. 
Click here to check pricing on Amazon and get an awesome deal.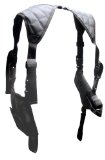 We found that this holster tends to work best for folks we'd describe as a medium to extra-large build. Even if you're above 300 pounds, this holster is still going to be fairly comfortable for you. It's the slimmer and shorter in stature that are going to have the most difficulty with this particular holster. It will still work, but you will likely feel that it won't have the "perfect" fit and that might cause some with a smaller build to avoid wearing the holster. We found that it was easy to adjust for different body sizes, simple to put on, and it was rather comfortable throughout the day.
Click here to check pricing on Amazon and get an awesome deal.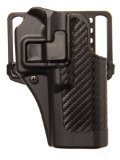 There are some limitations we discovered of which you should be aware. For certain firearms, we noticed that the Blackhawk CQC holster will only work with round trigger guards or specific sub-models within a manufacturer's regular line. Some compacts also have a little overhang over the muzzle. The draw, however, gives you a full grip that lets you use your preferred technique. You won't have to practice new drawing techniques when you invest in this holster. Overall, it keeps your firearm secure, is comfortable to wear, and automatically puts you into the best defensive posture possible.
Click here to check pricing on Amazon and get an awesome deal.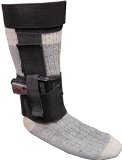 The elastic nature of this holster is what really provides users with a benefit when they are exercising their rights to concealed carry. The materials have enough give to them that you can carry virtually any type of firearm that is medium-sized or below with comfort. Whether you've got an XD9 you like to carry or you're old-school with a .38 Special, at this price point you won't find a more flexible option for a holster. If you've got a larger leg size, then this holster might cut into your legs a bit. Some folks might not be able to wear calf socks with this holster on because it's more for people with a medium build.
Click here to check pricing on Amazon and get an awesome deal.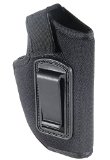 A good holster must secure your firearm in a drawing position at all times. Many holsters include a strap that runs along the back of the grip to make this happen. In theory, a quick flick of the thumb is enough to then prepare for a draw. The Velcro strap on the UTG Concealed Belt Holster doesn't quite give that experience. The strap itself isn't always easy to grab. If you're not used to its placement, then you could find yourself in trouble during an emergency situation. The Velcro also tends to pick up lint from your clothing over time, making the strap less effective unless you peel that lint out – and that's not easy to do.
Click here to check pricing on Amazon and get an awesome deal.
The best concealed carry holsters will hold your firearm securely, yet still allow you to draw quickly. Don't settle for something that is second best. When you have confidence in your holster, you'll have confidence to defend yourself and others should it become necessary.