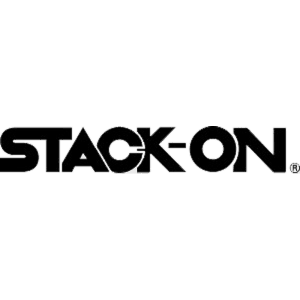 Stack-On has provided its customers with a wide variety of products since it first opened its doors in 1972. Many of the products offered have to do with secure home storage in some facet. Many are familiar with their drawer cabinets, storage boxes, and tool chests, but the gun safes manufactured by this brand should not be ignored. These Stack-On gun safe reviews show that you can get the high quality you expect at a price that isn't going to shock your budget.
The Best Chart for Stack-On Gun Safes
Stack-On takes secure storage seriously. You'll find that their gun cabinets and safes provide a total level of protection for whatever your personal needs may be. From their Elite safes to those that provide total tactical security, the chart below has the very best of the best from this brand.
Why Choose Stack-On for Your Next Gun Safe
Storage solutions are the emphasis of this gun safe brand. You'll find that their product offerings in this category will give your firearms the safety you expect with the accessibility that you need. Because your needs for firearm storage can be quite diverse, you'll find that Stack-On has created numerous gun cabinets and safes with specific features that are designed to cover those needs quite effectively.
Stack-On is also a local brand for Americans. Their entire operation is located in a manufacturing facility in Illinois. With more than 400,000 square feet of warehousing, manufacturing, and administrative space, everything you order from the Stack-On brand originates from just one distribution center near Chicago.
Security is also important to this brand. For Stack-On electronic locks, you only have 3 chances to input the correct code before a 20 second waiting period occurs. 3 more incorrect inputs will create a 5 minute waiting period.
The Advantages of a Stack-On Gun Safe 
As you can see from the Stack-On gun safe reviews, this brand provides a number of unique advantages to the gun owner. The first comes with the fire resistant design of some models, which will not exceed 350F internally, should there be a fire at your home. This will prevent your firearms from being destroyed. It is not recommended to store other media items, such as CDs or flash drives, in a Stack-On safe because of this feature.
Some Stack-On gun safes have a hole in the back of the safe that can be used for an electronic dehumidifying rod if you prefer. The fire resistant safes of this brand do not have a place for a dehumidifier. Stack-On recommends that you use a battery operated dehumidifier or a dry desiccant to control moisture around your stored firearms if needed.
The electronic locks for a Stack-On gun safe are expected to last about 1 year under normal use. "Normal" is defined as needing to access the contents of your gun safe 2x per day.
Many of the guns safes that are offered by this brand feature a drill resistant steel plate that is hardened behind the lock to give you an extra level of security. The 3 number combination lock accepts up to an 8 digit code for immediate access and virtually every safe is California approved as a firearm safety device.
Certain Problems with Stack-On and How to Fix Them 
The most common complaint about Stack-On gun safes is that the live action locking bolts on their secure storage solutions can get bent. This tends to happen if a user attempts to close the door to the gun safe while the bolts are still extended. Because this damage occurs through improper use of the safe, it tends to void the warranty. Always make sure the bolts are retracted before shutting the door to your new gun safe.
Sometimes the batteries in the electronic lock will not actually operate the lock. If this happens, try replacing the batteries with a fresh set that have not gone beyond their expiration date. If this issue persists, Stack-On has a back-up locking mechanism that can be accessed with a key beneath the electronic keypad that will help you to access the safe.
The one issue in Stack-On safes is their level of fire resistance. The best safes from this brand can withstand 1,400F for 75 minutes. Other brands offer double this length of time. If fire safety is your primary concern, then a brand like Winchester might provide a better gun safe for you.
How to Find the Best Stack-On Gun Safe for Me 
Stack-On is a brand that lets you choose which gun cabinet or safe is the best option for you. They have portable cases and boxes that can safely store your firearms in a convenient way. The Total Defense series of safes is designed to protect against fire and water disasters while providing users with a flexible set of barrel rest configurations and a convertible interior. The Buck Commander safes and cabinets come with a padded interior to protect sensitive equipment.
This means you can find a safe through this brand that will store your long guns, your handguns, and your other methods of self-defense safely and securely.
What Is the Price of a Stack-On Gun Safe? 
Portable safes that will securely transport a single firearm in a vehicle or allow for easy storage under the bed begin around a $50 price point. If you are looking for a high capacity storage option, such as the 54 gun safe from the Total Defense series, then you may be looking at a price of over $1,000 depending on what features you want to see. As an added benefit, however, the Total Defense series is waterproof in up to 2 feet of standing water for up to 72 hours as long as the safe is bolted to the floor.
What Do Our Reviews Have to Say?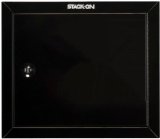 When it comes to in-wall gun safes, this is one of the best in the business today. It's perfect for holding a pistol, some spare ammo, and all of your supplies. The locking mechanism is secured behind the door frame instead of just in the door; giving you an extra layer of steel protection should someone try to break into this gun safe. Removable shelving allows you to customize the use of this safe and mounting holes give you an easy way to mount this into the wall or the floor if you prefer. It's a great safe at a really great price.
Click here to check pricing on Amazon and get an awesome deal.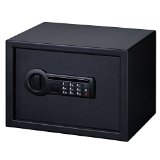 Not everyone needs a gun safe with multiple layers of security. Sometimes simple is better. If that's the case for you, then we highly recommend this personal safe. It has a foam padded bottom and a padded removable shelf so that you can safely store a firearm or two behind an electronic lock with a 10-digit entry system. Concealment hinges and a pry-resistant door help to keep your valuables safe, yet a backup key system can be accessed in case you don't remember your code or it runs out of juice. It's not high quality security, but it can get the job done for some households.
Click here to check pricing on Amazon and get an awesome deal.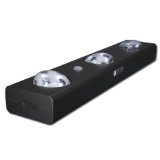 This motion sensitive LED gun safe offers an affordable way to store guns safely. You can illuminate the inside of your safe with the battery operated lights of this safe. Each light has 4 LED lights that have two different levels of brightness so you can always see what you're grabbing. You can even set the lights to turn on automatically from the exterior of the safe if they detect motion using the optional motion detector. It would be better if this safe was made from steel rather than plastic, but if you're in a pinch, this will get the job done.
Click here to check pricing on Amazon and get an awesome deal.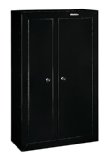 This is the gun cabinet you'll want when your desire is to have an all-in-one solution. Two doors have two separate locks so that you have an added level of security. It can hold up to 10 rifles on the gun cabinet side and all of your valuables on the padded shelves on the other side. Realistically you'll fit 5-6 rifles in this cabinet, but it can also store all of your handguns. Make sure you mount this cabinet for best results, especially if there are days it will run empty, because the design is just a bit top-heavy. If you want a cabinet that blends into your setting instead of standing out, give this cabinet a second look.
Click here to check pricing on Amazon and get an awesome deal.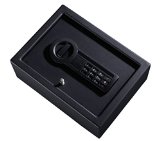 This gun safe can convert any area into a safe place to store a firearm, your ammunition, or other home defense products. It has a key-coded cylinder lock that accesses a 3 point locking system for a high level of security. Keyless entry with a 10 digit system is reliable, though it does tend to beep when you press the numbers even if you've turned that feature off. It's remarkably heavy for such a small safe, so we recommend not storing it in a drawer for best results.
Click here to check pricing on Amazon and get an awesome deal.
These Stack-On gun safe reviews will help you take control over your home's security. You have the right to protect the ones you love. These options will make that job easier than ever before.