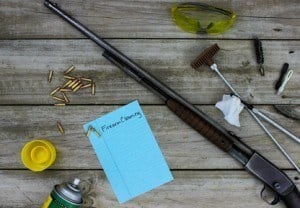 When you own a firearm, you can't just use it and then store it. You've got to be proactive about cleaning it on a regular basis for it to operate correctly. If you own the best gun cleaner for your firearm, then this work can be more fun than a simple, bothersome chore. With cleaning kits, supplies, and mats available, which option is right for you? This guide will help you to answer that question.
The Best Chart for Today's Gun Cleaners
There are numerous solvents, cleaners, and supplies that are marketed to gun owners today. Which ones will actually prolong the life of your firearm? The chart below has the cleaners, which have proven themselves to be effective and reliable.
How to Properly Clean a Gun 
Owning a firearm means knowing how to properly care for it. That means knowing how to clean it. A defensive firearm is reliable and rugged, but it won't stay that way if you don't maintain it. When you shoot a dirty gun, it can malfunction and even damage itself permanently. Always make sure your gun is unloaded without a round in the chamber before working on it.
There's a good chance you don't have to completely disassemble your firearm to clean it. For a single action revolver, you just need to remove the cylinder from the frame. Semi-automatic pistols are broken down to its major components. Yet even with that in mind, the most important component of any gun to clean is the interior of the barrel.
Leftover materials from shooting that remain in the barrel will affect the accuracy of your gun. Use a bore brush attached to a cleaning rod and apply your preferred cleaning solvent. Move the brush through the bore of the barrel several times, adding more solvent at least once. Then attach a patch and swab the bore and wipe it down. Repeat until the swab comes back clean.
A nylon brush and solvent is generally used for the other components of a gun as well. As a general rule of thumb, if something looks dirty, then clean it. Look for fouling in the nooks and crannies that can build-up on you. Always follow your manufacturer's suggestions for cleaning as well for the best results.
How to Find the Best Gun Cleaning Supplies 
The best gun cleaners will help your firearm stay clean, but save you time on the cleaning process. Some firearms will almost always malfunction if you don't clean them after a shooting session, so it is always important to have cleaning materials on hand that can remove multiple types of fouling with ease.
The best gun cleaner can also be used on multiple types of metals so you don't have to worry about damaging your firearm while trying to take care of it. Hoppe's #9, for example, works on steel, chrome, nickel, anotized aluminum, and titanium to remove carbon, lead, and steel. Some cleaners need to be poured onto a brush, while others come in an aerosol container, so choose the option that works best for you.
If you haven't purchased any gun cleaners in the past, then we highly recommend a gun cleaning kit today. A kit will contain all of the brushes, swabs, and other tools that most firearms are going to need to be properly cleaned.
As a final step to the cleaning process, it is important to remember that a firearm needs to be lubricated in order to function properly. Look for kits that contain oil wipes or a similar product so that you won't coat your gun, yourself, and your work station with an unintended spill during this process. Look for a gun cleaning mat that won't absorb oil as well for best results.
7 Helpful Gun Cleaning Tips 
Although soap and warm water isn't recommended for cleaning a gun, it can be used as a system of last resort. It's most useful when using corrosive ammunition to remove leftover deposits. Try to add a water-soluble solvent if you can or use a gun cleaning kit as soon as you can afterward.
Motor oil can be used in an emergency for firearm lubrication, but it should be used only if there isn't gun oil that you can use. Synthetic oils work the best, but avoid using a firearm with motor oil lubricant in any condition that might be harsh.
Don't use grease for cleaning a firearm, even if it has been marketed as being approved. Grease tends to be sticky and that can attract more fouling over time.
You can take the smell of the solvents and cleaners into account. You're the one who is cleaning your firearm. If your cleaning materials smell terrible, you'll avoid the product as much as possible.
Multi-function solvents and lubricants are great for when you're in a hurry. One product will clean your gun, make it ready for action, and give you an insurance policy against rust.
If you don't have a brush for your gun on-hand, you can use a shaving brush to help clean your gun. Just remember not to use it to shave your face afterward.
Your magazines need to be cleaned every so often as well. Much of the focus of firearm care is with the gun itself, but if a magazine malfunctions, your gun still won't work.
What Are the Prices of the Best Gun Cleaners?
Gun cleaners tend to be priced in the $10-$20 range per product today. Larger containers will typically be priced higher, but can provide you with an overall savings when you look at the per ounce cost. If you're trying to purchase a gun cleaning kit with all of the accessories and tools you'll need, a premium kit tends to top out around the $100 price point. Most gun owners can find everything that they'll need, including the lubrication, for around $50 when first getting started.
What Do Our Reviews Have to Say?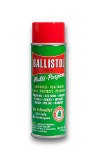 This aerosol multi-purpose gun cleaner is everything you'd expect it to be. It's a biodegradable product, so it isn't going to hurt the environment. It works to lubricate and protect your firearm components. It will also effectively clean your other trim and grip components. It's just as safe on wood, leather, and plastics as it is on metal. We also like the fact that it's just a little alkaline with its pH so that your skin oils are neutralized. Give this gun cleaner a try and we believe that you'll be pleased with the results it can consistently produce.
Click here to check pricing on Amazon and get an awesome deal.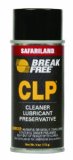 When you've got stubborn fouling that just won't swab out, you could find yourself wasting an entire canister of gun cleaner to get the job done. You could also invest into one can of this cleaner, lubricant, and preservative. It penetrates into the fouling, softening it so that it is much easier to remove its residue. After a couple of cleanings with this product, you'll also start to notice a difference in how much adhesion future fouling is able to have. It works in all environments, including the salty air of ocean-side communities, and virtually any reasonable temperature.
Click here to check pricing on Amazon and get an awesome deal.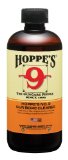 This solvent hasn't changed its formula in over 100 years for one good reason: it works remarkably well. It's best used for removing powder and preventing corrosion. It's extremely potent, doesn't have an overpowering odor to it, and penetrates rapidly and deeply to make sure your gun is clean. It's suitable for use on shotguns, pistols, and all rifles. It's a little thick, so it takes a little getting used to using if you're used to aerosol sprays, but there is a reason why many customers have used this product for 20+ years. Use it and it might be the last cleaner you ever use.
Click here to check pricing on Amazon and get an awesome deal.

The problem that many have with traditional gun cleaners is that they require a time investment to help them dry. That's not the case with this gun scrubber. This solvent will blast away the grease, fouling, and other contaminants immediately and it dries instantly. Now this isn't a shortcut product – you'll still need to use a bore cleaning solvent in addition to this product. Make sure that you also lubricate your gun afterward because it will strip the oils from the gun. As an added bonus, it works for plastic guns as well.
Click here to check pricing on Amazon and get an awesome deal.

This spray gun cleaner is designed to work in the toughest of situations. The small bottle design improves the accuracy of your cleaning while cutting down on the time it takes to get this chore done. We also like the fact that it helps prevent future fouling build-up when used consistently. It removes most carbon, lead, and copper buildups that can happen. As an added benefit, this cleaner is one of the few that are completely odorless.
Click here to check pricing on Amazon and get an awesome deal.
The best gun cleaner will help you make sure that your firearm is always ready to use. Don't let a dirty gun prevent you from defending yourself effectively or stop you from getting that buck this year. These cleaners will get your gun clean now, help to reduce your future cleaning chores, and prolong the life of this useful tool.