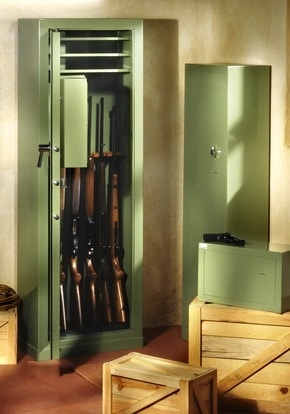 Protecting your family is important. For many, this means owning a firearm in case an intruder might try to come into your home. Yet homes that own a firearm, but don't secure it safely, are more likely to experience violence. That's why knowing how to find the best gun safe for the money is so important. It's an easy and important way to protect yourself and your family.
The Best Chart for Gun Safes 
You'll find that gun safes come in all different shapes and sizes. Some have unique features, such as biometric locks, to enhance the security they provide. The chart below offers you a look at the gun safes that have proven to be reliable time and time again.
What Is a Gun Safe and Why Do I Need One? 
In basic terms, a gun safe does exactly what its name implies: it keeps your guns safe. You'll find that the modern gun safe has specific features that cater to a specific need you may have for your firearms, so what works best for you might not work best for your neighbor.
Every manufacturer of gun safes makes at least one model that could be considered one of the best gun safes on the market today. The key to a solid gun safe is its durability. Not only do you want your gun safe to last, but it must also work double duty in keeping people out of the safe when they're not authorized to have your firearms.
Here are some of the features that are seen quite regularly in this industry today.
Bolted doors. Much like a vault, these bolts help to secure the door to the body of the safe so it is difficult to pry the door open if someone doesn't know the combination or can't bypass the biometrics.
Hard plates. Many of the best gun safes today offer a triple hard plate, which means you'll receive 3 layers of hardened steel (60+ RC) so that even if someone tries to access the safe with a cutting torch, it'll take them a couple of hours to do so.
Reliable fire ratings. The last thing you need is your ammunition going off inside your safe if a fire happens at your place. Look for a brand that tests their safes at temperatures of at least 1,000F to know how well your preferred gun safe will perform. 
You'll also want to consider a gun safe that has a back-up plan in case the primary locking mechanism fails for some reason. Premium safes even include electromagnetic pulse protection. 
The Best Gun Safe for Every Type of Gun 
If all you are storing is a pistol or a handgun, a small gun safe with a biometric lock may be all that you need. This allows you to have some portability with your firearm as well, especially if you have a concealed carry permit which allows you to store a firearm in your vehicle.
Long guns typically need a gun safe that is at least 58 inches high and about 3 feet wide. Expect this type of gun safe to weigh close to a half ton, but as an added benefit, many have slide out drawers, which allow you to store your handguns. Make sure your surface is drill resistant. A unique option in this category is the long gun safes that can slide under your bed.
How to Find the Best Gun Safe for Me 
You'll want to purchase a gun safe that is bigger than you think you may need. Remember that a gun safe is more than just a place to put your guns. It becomes a secure storage area for all of your valuables as well. You really will get what you pay for in this category, so invest in the features that you might not need now, but think you could need in the future.
You'll also want to purchase the highest level of fire resistance that you'll be able to afford. This is especially important if you plan to store paperwork, media files, and other documents of value within your gun safe. Pay attention to the internal temperature of the safe that is based on the exterior temperature. If a gun safe reaches 350F for an internal temperature, there's a good chance your files will be ruined.
As for storing flammables, paperwork is fine, but don't store powder or a large quantity of primer in your gun safe. A box of powder in a gun safe that is on fire has the potential to become a bomb. Primer can start a chain reaction that can detonate all of the others in your gun safe. And, as a final note of safety, make sure to affix your gun safe to the floor or wall instead of leaving it on its delivery pallet so someone can't just steel your entire safe.
What Are the Prices of the Best Gun Safes? 
You'll find that there is a wide price range for the best gun safes on the market today. A basic portable gun safe with limited features can cost as little as $50. On the other end of the spectrum, a vault-style gun safe that can store rifles, assault-style firearms, and handguns as well as your other valuables may be $1,500 or more.
Most households typically find a good safe that meets all of their current and future needs in the $300-$750 range. Prices below this are more about immediate needs, while prices above this average provide premium results.
What Do Our Reviews Have to Say?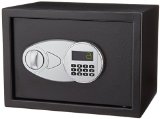 AmazonBasics has equipped this small little safe with two live-door bolts and concealed hinges that make it virtually impossible to pry this thing open. The digital keypad can be reprogrammed with your own unique passcode whenever you feel the need to update it. You'll need to open the safe the first time with the override key, but then you can use it however you wish and find yourself satisfied with what this product can do.
Click here to check pricing on Amazon and get an awesome deal.

We've taken a thorough look at the public reviews and given this gun safe a thorough up and down and discovered that all of the negatives we can find are rather cosmetic in nature. For the American gun owner, there is a certain pride in buying products that are made in the USA. This gun safe is made in China. The quality is there, but if you want to take some patriotic pride in your purchase, the only pride you'll get is the fact that this company has offices in the States. This defense vault isn't fireproof. It isn't even remotely water-resistant. Although that isn't necessarily an issue when being stored under the bed, if you have young children who are prone to bedtime accidents, you might wish to start having the kiddos sleep in a cot beside the bed instead of crawling into bed with you.
Click here to check pricing on Amazon and get an awesome deal.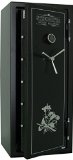 Steelwater has equipped this gun safe with a total of 9 steel bolts that are 1 inch in diameter. There are 6 active bolts that are chrome plated, with 3 additional bolts for added security on the hinge side that remain inactive. The door itself is made from 12 gauge steel that is 4.75 inches thick. Don't worry about someone with a crowbar prying this safe open any time soon. Also included is a 0.5 diameter hole in this safe for the installation of a dehumidifier and you'll want to take advantage of it. If you don't install a rod, then you'll want to include some sort of moisture absorbing agent or compound with your firearm storage to prevent internal corrosion.
Click here to check pricing on Amazon and get an awesome deal.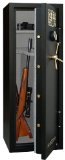 There are a number of reasons why this could be the best gun safe available right now. For starters, this Mesa Safe Company burglary and fire gun safe is rated to survive a fire for at least one hour at 1,750F when other safes can't make it 45 minutes at temperature that are 400 degrees coolor. Then there are the 12 solid steel locking and dead bolts, each 1.5 inches in diameter, combined with a 4 point locking system, to make sure this safe stays shut when you've locked it up. The lock is protected by a drill-resistant hard plate and the spring loaded re-locker can keep the safe locked even if the lock has been removed.
Click here to check pricing on Amazon and get an awesome deal.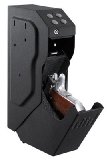 When you've got a possible intruder in your home, time is of the essence to protect yourself. Unfortunately in the dead of night, there is rarely much light at your disposal. The GunVault SV 500 is equipped with a nice floodlight that will let you quickly grab your gun and go. Of course an intruder can also see this light and it's really bright after you've become accustomed to the dark, but overall we see this as a positive feature.
Click here to check pricing on Amazon and get an awesome deal.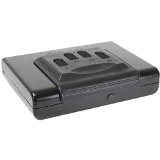 Not many gun safes in this category could be described as "solid." This one can be. Outside of the small mounting holes for the 1500lb steel cable, there is no way to really access this gun safe outside of going through the lock. That mounting design also means that this safe isn't water-resistant, so you'll need to keep it away from all moisture to keep your firearms safe. This might be the best gun safe in regards to making a great first impression. Does that impression change once you begin to use the safe? You'll have to take a look to find out.
Click here to check pricing on Amazon and get an awesome deal.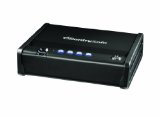 This gun safe comes with a programmed code which allows you to open the safe once it is in your possession. Even if you program the biometrics, make sure that you change this code. You'll also want to plan for about 30 minutes to setup your biometrics since you need to scan two fingers into the lock and each finger requires about 10 scans in total. The code reset is also inside the safe and protected by a plastic cover so it is virtually impossible to access from the outside.
Click here to check pricing on Amazon and get an awesome deal.
There are a couple of very forthright public reviews that state you can easily open the lock on this gun safe by forcing the handle into a specific position. With enough force, anyone can break into just about any safe – that's just a fact. We used the method described in those reviews in an attempt to pop open the door and although we did get some handle movement after about 15-20 minutes, the lock held firm. If we'd put in another 20 minutes, the lock probably would have given way. We're more concerned about the keypad placement – bigger fingers can mishit the numbers and that could be touch-and-go during an emergency.
Click here to check pricing on Amazon and get an awesome deal.

Barska has equipped this rifle safe with pre-drilled anchor points, allowing users to be able to secure it to either the floor or the wall pretty easily. As long as you've identified your placement before the safe arrives, you'll be able to secure your new gun safe in just minutes. Powered by AA batteries, we found that the biometric sensor can be a bit stubborn when detecting a person's fingerprints. Not only does the screen need to be perfectly clean for you to get a good reading, but your fingerprints need to be in perfect condition. If you have some dirt on your fingers or you've picked up a cut somewhere, there's a good chance your request for entry is going to be rejected.
Click here to check pricing on Amazon and get an awesome deal.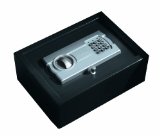 Many drawer gun safes don't even have a locking bolt. For those that do, it's just a single bolt design that is protecting your firearm. This Stack-On safe comes equipped with 2 live-action steel locking bolts that give you a solid level of protection. You're not going to be able to pry open this safe. Although the safe itself is quite durable, the keypad could be problematic for some users. Made from plastic, you've got to be gentle with it if you don't want it to crack on you. You don't have to worry about someone busting up the plastic to override the lock, but it would be nice to have a little more quality here.
Click here to check pricing on Amazon and get an awesome deal.
The best gun safe for the money will help you be able to invest into a protection system that will keep your firearms safe, but still give you fast access should it be necessary. Find your best solution today so that your firearms can be used as the defensive, sporting, or hunting tools they were meant to be.