Let's face it: not all of us can afford a top of the line gun safe that has just about every feature ever invented in this industry. For many us, we're stretching things just to be able to afford a quality firearm to protect our families and ourselves. That's why knowing how to find the best gun safe under $500 is great knowledge to have. You can keep your firearm safe, keep your family safe, and protect your interests without breaking your budget.
The Best Chart for Gun Safes Under $500 
When shopping for a gun safe under $500, it is important to distinguish the features that are used to enhance the safety of the product from the marketing features that are essentially worthless. The chart below will help you to do just that.
The Features of Gun Safes Under $500
If you're shopping for a gun safe today that's less than $500, then you're looking for the best combination of features that your budget can afford. There are certain features that are great to have, but because the gun safe industry is a highly competitive market, there are also certain features that are more of a promotional benefit than a realistic investment.
Internal hinges sound like they'd be a nice thing to have since it makes a gun safe door more difficult to take apart, but the average thief isn't going to spend the time it takes to hammer out the pins on a hinge. This is especially true for the large gun safes that are designed to hold rifles.
Fire liners are another marketing item that is something that many households likely do not need. The fire resistance that a gun safe has is based on the insulation the walls are able to provide the interior. You're better off investing into a triple plate steel gun safe than investing into a $100 fire liner in most circumstances.
And even if a criminal does get your hinges off – they still have a lock that has to be beaten. Investing into a biometric lock could be the best decision you make for a gun safe in this category.
Things to Consider When Purchasing a Gun Safe Under $500 
When you're purchasing a gun safe that is below $500, then there's a good chance that you'll need to make a few compromises about what it is you're going to need. Many people prefer to store their ammunition inside of their gun safe as an extra measure of safety. In a fire, however, this may cause the ammunition to ignite and cause smoke damage to the safe's contents. It may be best to consider a separate affordable gun safe to store ammunition.
You will also want to look at the need of having a dehumidifier installed in your room where you plan to keep your safe. If large enough, you may wish to consider running a dehumidifier inside the safe itself. This is because moisture tends to evaporate from the fireproofing insulation that a safe contains, creating a moist interior environment that may cause your firearms to begin to corrode. You can avoid this issue if you purchase a composite-clad fire safe.
How to Find the Best Gun Safe Under $500 for Me 
If a thief wants to take the contents of your safe, then there is a good chance that all they'll do is take the entire safe out of your home and crack it open somewhere else at their convenience. If you make this process difficult for them, then there's a good chance that they'll just leave it alone. Look for a gun safe under $500 that is easy to mount inside a wall, to a stud, or to your floor for best results. Consider placing your safe in a difficult to access location for a burglar, but a place you can easily access in an emergency.
Fire ratings are also a critical consideration and this is where public reviews of gun safes in this category can be highly beneficial. Looking at how resistant a safe is to a temperature that a fire could create will let you know if a safe can meet your needs. The longer a gun safe can maintain an internal temperature of 275F, then the more the safe will cost, so look for a rating of over 1 hour at minimum.
As a final consideration, look at the actual capacity of the gun safe itself. Many of the safes in this category tend to hold a minimum number of firearms or may only hold a specific firearm. It's not uncommon for someone to find that they can only store 50% of the advertised maximum number of guns in the safe they purchase, so think about the firearms you own and the storage space they take up to get the best results.
What Are the Prices of the Best Gun Safes Under $500? 
Besides the obvious, you'll find locking portable gun safes start around the $50 price point in this category. If you're looking for a safe that you can mount inside a wall, then entry-level models tend to be priced around the $100 mark. Vault-style gun safes begin at $100 for one firearm models and if you want to mount a vault-style safe on the wall, you'll need to double your expected price.
Most gun safes in this category give you the option to add a biometric lock to the unit as well. If that is something you're thinking about, expect to add another $100+ to the price of your gun safe. Keyless entry models tend to be priced a little higher than locking gun safes with a key, but are a good compromise between the lowest and highest levels of security that are available.
What Do Our Reviews Have to Say?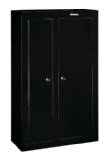 This gun safe is designed to keep your valuables on one side of the safe and your guns on the other. You could also store handguns or your ammo on one side and your rifles or shotguns on the other side if you prefer. Inside the valuables cabinet are 4 large padded shelves that are removable. Both sides are protected by a full-sized steel door and protected by a key coded 3 point locking system with a double-bitted lock. Mounting holes are incorporated into the back of the unit so that it can be securely fastened to the wall of your choice. There isn't a flange, however, so a flush mounting isn't in the design. Since it weighs just 100 pounds, it could conceivably be stolen under the right circumstances.
Click here to check pricing on Amazon and get an awesome deal.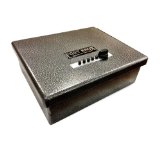 The primary feature of this particular safe is the heavy duty nature of its construction. Made from 3/16" 10 gauge steel, you won't be able to open up this safe unless you use an acetylene torch or you punch in your access code. The Simplex mechanical locking device features a push-button design that will quickly open thanks to the gas-strut assisted door. For this size of a pistol box, you will struggle to find a safer solution. The bottom line is this: you're going to get what you pay for. Many might see the price point of this Fort Knox gun safe and cringe, but it is a great safe that will last a lifetime and has a warranty that proves it.
Click here to check pricing on Amazon and get an awesome deal.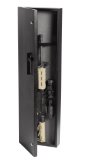 When you're shopping for the best gun safe, you shouldn't have to sacrifice versatility for security. A gun safe should be able to mount on a wall or floor in the best possible way for your home. It should open in such a way that your firearms are properly protected. It should be large enough to accommodate your guns, but still have enough room for you to expand your collection. The V-Line Quick Access Keyless Long Gun Safe gets the basics right so you don't have to worry about the security of your guns any more.
Click here to check pricing on Amazon and get an awesome deal.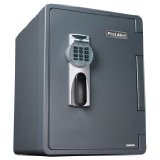 Many "waterproof" gun safes say that they can withstand 2-4 feet of water for 30-60 minutes. That's not waterproof. This First Alert safe can be fully submerged in water and still protect your firearms. Once you've programmed your electronic lock on this First Alert safe, it is designed to lock people out if the incorrect codes are used. If that happens, the only access available is the emergency override key, which means you have less to worry about from a thief trying to hack into your safe. At this price point, you'll struggle to find the waterproof and fire resistant features in any safe being offered today. For that reason alone, we would encourage everyone to give this safe a trial run.
Click here to check pricing on Amazon and get an awesome deal.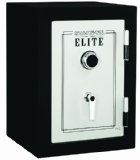 If the wheel isn't broken, then why fix it? Far too often, we accept change simply because it happens. Sometimes it shouldn't happen and the Stack-On Elite Executive Fire Safe is a great example of this fact. It's black powder coat paint finish, silver gray door with black accents, and combination lock will provide you with the right level of security you need to keep your firearms and valuables safe. Fastening hardware is included so you can mount this safe as well for a more permanent solution.
Click here to check pricing on Amazon and get an awesome deal.
The best gun safe under $500 will give your home the security you need without wrecking your budget. Protect your firearms today with products like these and you won't have to worry tomorrow, or any other day, about someone using your guns without the same care you would take.