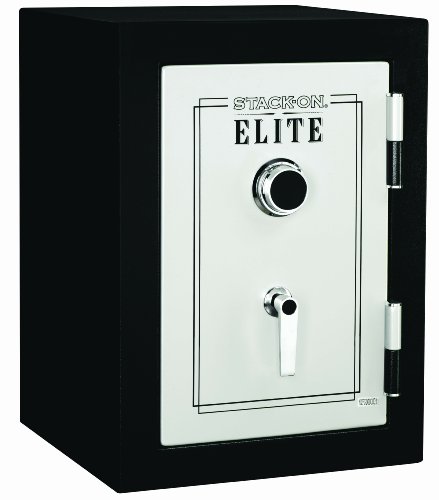 If the wheel isn't broken, then why fix it? Far too often, we accept change simply because it happens. Sometimes it shouldn't happen and the Stack-On Elite Executive Fire Safe is a great example of this fact. It's black powder coat paint finish, silver gray door with black accents, and combination lock will provide you with the right level of security you need to keep your firearms and valuables safe. Fastening hardware is included so you can mount this safe as well for a more permanent solution.
We do recommend the purchase of a miniature dehumidifier with this safe if you don't have one already. There is no access point for a dehumidifier rod and the moisture build-up on the interior is going to happen. Here are the other facts you'll want to know about this well-built safe.
There Is the Right Amount of Storage Space 
Overall you'll receive about 4 cubic feet of storage space inside this Stack-On safe. The floor of the safe has been carpeted to give your firearms some protection against scratching. You'll receive just under 15 inches in length, about 17 inches in width, and about 21.5 inches in height for storage dimensions overall. The total weight of the safe is 155 pounds.
We also like the fact that the sides and back of this particular safe are just as sturdy as the door happens to be. Many gun safes tend to be more like a filing cabinet than an actual safe because all of the protection the manufacturer gives to it is for a frontal defense. Stack-On has created a very consistent product with this safe and with the interior, most users will find that it has the capacity to meet their needs.
Be Wary of the Combination Lock 
People either love or hate a combination lock. In an era where biometrics and keypads are more popular, you still can't beat the quality of a combination lock for a safe like this. We found that the standard lock is very picky about number placement. If you are not precise – and we mean right there on the combination number exactly – then you're not going to get the door open on this safe.
You can also inadvertently damage your combination lock if you're not careful with this safe. When you have the latch up on the safe with the door open, then the dial is going to stay locked on the last part of your combination. Don't force the dial when this happens or you'll find yourself with a very large and effective paperweight instead of an effective gun safe.
This is a fire resistant safe, but rated at just 30 minutes, so it isn't going to withstand something major. It does have up to 10 locking points, including 1.5 inch live action locking bolts that offer a 4-way locking experience for an enhanced level of security. It also meets all CA requirements for a gun safe and we found the usability of this safe to be better than most other safes.
Is this the best gun safe for you? It could be if you have the need to store a firearm and you have limited living space for a larger option. Give it a look and we think you'll be pleased by what you see.
Click here to check pricing on Amazon and get an awesome deal on the Stack-On Elite Executive Fire Safe.