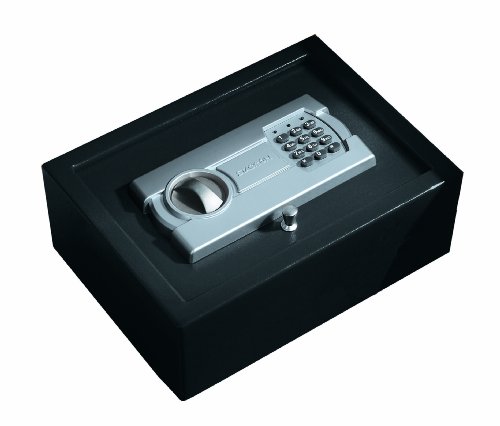 In this day and age, you need to have defensive security in a number of places around your home. Having an alarm system and a large gun safe in the basement just isn't good enough for some households. You may need to store a firearm that is easy to access in your kitchen, your bedroom, or other locations in your home so that if an intruder comes around, you can quickly defend yourself. That's what the Stack-On PDS-500 Drawer Safe allows you to do.
Many drawer gun safes don't actually fit into a drawer unless it is a massively oversized drawer. Since this Stack-On gun safe easily slips into virtually any standard drawer, it already has an advantage over the rest of the competition. Here are a few additional reasons why we believe this is one of the best gun safes on the market today after giving it a trial run.
You have double the locking bolts. Many drawer gun safes don't even have a locking bolt. For those that do, it's just a single bolt design that is protecting your firearm. This Stack-On safe comes equipped with 2 live-action steel locking bolts that give you a solid level of protection. You're not going to be able to pry open this safe.
You can mount this safe if you wish. Although we wouldn't recommend mounting this safe to a wall, having it mounted to your drawer can help prevent a thief from just grabbing this drawer safe on you during a robbery. The installation process takes about 15 minutes and you receive all the hardware you need for a successful experience.
The interior of the safe is surprisingly roomy. You're going to be able to fit 3-4 handguns into this drawer gun safe. With that being said, there is also a certain level of shallowness to the interior. You won't be able to store an entire box of ammo, for example, unless it's super small. A few rounds that you need to get out of sight from the kids, however, can be accommodated quite well with this gun safe.
We're not a fan of the plastic keyboard. Although the safe itself is quite durable, the keypad could be problematic for some users. Made from plastic, you've got to be gentle with it if you don't want it to crack on you. You don't have to worry about someone busting up the plastic to override the lock, but it would be nice to have a little more quality here.
Ignore the paper clip complaints. Look – sure. You can override this gun safe with a simple paper clip. This isn't supposed to be an all-in-one security solution for your firearms either. It's supposed to help you keep your gun away from curious fingers who might want to play with it. If you're really concerned about this issue, a small dab of epoxy over the access point will solve the issue or you can contact Stack-On for a replacement lock that isn't as vulnerable.
Be aware that this drawer safe is a little heavy at 12 pounds, so it could be problematic for some locations where you might need access to a defensive firearm. We found that the positives of the Stack-On PDS-500 drawer safe far outweigh the negatives, so if you need a strong and portable safe for your handgun, we recommend giving this one a good look.
Click here to check pricing on Amazon and get an awesome deal on the Stack-On PDS-500 Drawer Safe.