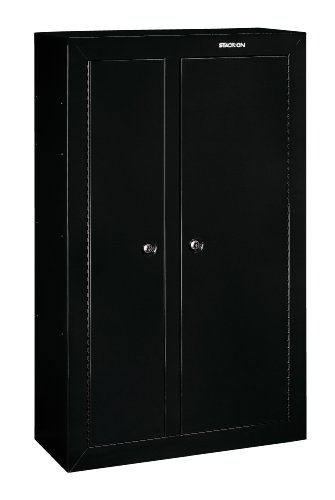 Have you ever noticed how noticeable so many gun safes and cabinets are? You might as well draw a target on the safe to tell someone that you've got firearms stored there. The Stack-On 10 Gun Double Door Gun Safe offers you a different solution that blends in with your other cabinetry in the home. Mimicking the look of many garage storage cabinets or basement storage solutions, each cabinet comes with a separate key so that you have fully secure storage experience.
The Features of the Stack-On Double Door Cabinet 
This gun safe is designed to keep your valuables on one side of the safe and your guns on the other. You could also store handguns or your ammo on one side and your rifles or shotguns on the other side if you prefer. Inside the valuables cabinet are 4 large padded shelves that are removable. Both sides are protected by a full-sized steel door and protected by a key coded 3 point locking system with a double-bitted lock.
Here are some of the other features of note with this particular safe from Stack-On.
Mounting holes are incorporated into the back of the unit so that it can be securely fastened to the wall of your choice. There isn't a flange, however, so a flush mounting isn't in the design. Since it weighs just 100 pounds, it could conceivably be stolen under the right circumstances.
The coating on the outside of the cabinet is strong enough to resist most household scratching or chipping that could occur. The finish is nice and smooth.
The shelves have to be installed after delivery. Double-check to make sure you don't install them upside down.
We definitely recommend that you anchor this cabinet to the wall because without that added support, it will not be very sturdy, especially when it is empty. Keep in mind that this isn't designed to be fire-resistant and you'll need to do some assembly before storing your firearms and we believe you'll have a very positive experience.
Here's What We Might Change With the Stack-On Double Door Cabinet 
The plastic barrel standoffs for this security cabinet by Stack-On are really mounted a little too high for your average carbine-style rifle. You can fix it, of course, but after spending this much on a security cabinet, you kind of expect the manufacturer to know what they're doing instead of relying on your handyman skills. We'd definitely change that positioning.
Based on the public reviews, we would also recommend that you thoroughly inspect this cabinet upon delivery before accepting it. Almost every negative review relates to shipping damages that were found after the delivery was accepted, which made returning the product difficult to do.
Otherwise the Stack-On 10 Gun Double Door Security Cabinet does an excellent job of protecting your valuables and firearms from curious hands. If that's the kind of storage solution you're looking for today, then we highly recommend this cabinet as a top option for your needs.
Click here to check pricing on Amazon and get an awesome deal on the Stack-On 10 Gun Double Door Gun Cabinet.