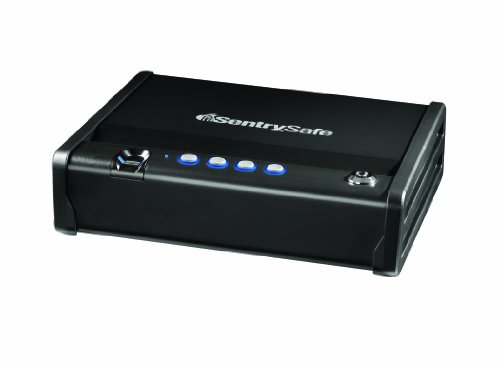 With the world as it is today, more people than ever before are looking at the potential value of owning a defensive firearm. Handguns and pistols are remarkably affordable and provide just the right amount of protection. Yet when there are children in the home, keeping a pistol in your nightstand, dresser, or under your pillow isn't an option. This is where the Sentry Safe biometric quick access pistol safe can really help you out.
Why might this be the best gun safe for you? For starters, it is designed in such a way that you can place it in a drawer so it is out of site. Made from 12 gauge steel, it's also sturdy enough to be kept out in the open if you wish. The biometric lock is super quiet when opening and so easy to use that you can open the safe with one hand and then grab your firearm with the other.
Here are some of other observations from our time with this gun safe by Sentry Safe.
You Can Mount This Gun Safe 
The mounting hardware is for either a shelf mount or a floor mount. You can't anchor it vertically because there isn't enough depth within the safe to prevent items from falling out. It's small enough at 10×12 that someone could just pick it up if they were so inclined, but we tried to pry this safe open and had a devil of a time trying to do it. This gun safe won't be the foundation of a home security setup, but it is a great little bedside safe for those unexpected moments when you may need to protect yourself.
Make Sure You Change the Default Code 
This gun safe comes with a programmed code which allows you to open the safe once it is in your possession. Even if you program the biometrics, make sure that you change this code. You'll also want to plan for about 30 minutes to setup your biometrics since you need to scan two fingers into the lock and each finger requires about 10 scans in total. The code reset is also inside the safe and protected by a plastic cover so it is virtually impossible to access from the outside.
We're Not a Fan of the Keypad 
The design of the keypad is what we'd consider to be a standard design for gun safes today. What we don't like about it is that Sentry Safe has made the buttons of the keypad to be soft and spongy. In our experience, this type of button tends to break down over time with repetitive use. Once that happens, it becomes virtually impossible to use the keypad. We also don't like the fact that you have to press a button before the safe will acknowledge the entry of a code.
This Safe Opens Super Fast 
Once this gun safe recognizes you as the authorized user of it, the opening sequence will surprise you with how fast it is. If you're looking over the safe, it can easily pop you in the nose if you're not careful. Combined with the exterior design that doesn't give a pry bar leverage to force the lid open and you've got yourself a sturdy little gun safe that can slide into virtually drawer.
Will the Sentry Safe biometric quick access pistol safe give you a comprehensive safety solution for all of your firearms? No. What it can do is protect one pistol, maybe some ammo, and a single magazine with ease. If that's what you're looking to find so you can safely store a defensive firearm, then there might not be a better gun safe on the market today to meet that need. This safe receives our highest recommendation.
Click here to check pricing on Amazon and get an awesome deal on the Sentry Safe Biometric Quick Access Pistol Safe.