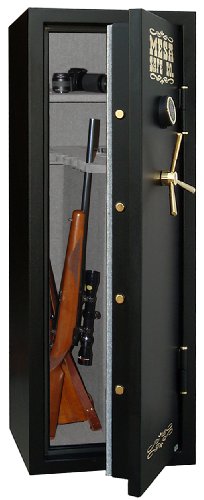 There are a number of reasons why this could be the best gun safe available right now. For starters, this Mesa Safe Company burglary and fire gun safe is rated to survive a fire for at least one hour at 1,750F when other safes can't make it 45 minutes at temperatures that are 400 degrees color. Then there are the 12 solid steel locks and dead bolts, each 1.5 inches in diameter, combined with a 4 point locking system, to make sure this safe stays shut when you've locked it up. The lock is protected by a drill-resistant hard plate and the spring loaded re-locker can keep the safe locked even if the lock has been removed.
With the 440 pound weight of this safe, the recommendation from the manufacturer is to mount this safe to your floor. There are no mounting options for a wall included, probably because there's an electric plug that comes from the back instead of the side, which makes it impossible to have a flush wall mount. As long as you can get past this one potential negative, we believe this gun safe will either meet or exceed all of your expectations and here's why.
A door organizer is included with the interior design. Not only can you store up to 14 long guns, but there is plenty of interior space to store other items as well. MSC has even included a door organizer for some of your smaller items. To be fair, you'll probably store 7-10 long guns instead of 14 with the average setup, but let's face it – no marketed number is 100% accurate for the average user. 
Internal temperatures are rated to 350F. Because the temperatures are at this level on the interior during a fire, you can store documentation with your guns and still have them protected by this safe. We wouldn't recommend storing ammunition inside of this gun safe, however, because the heat could cause it to ignite and negate the documents you've stored. Don't have documents? Then go ahead and store the ammo. 
The electronic lock is battery operated. If there was one weak point to talk about with this particular gun safe, it would be with the electronic lock. Its battery operated, so if they aren't working, you're not necessarily getting into your safe. You can override the lock with a physical key, of course, but this experience we found to be a bit of a hassle.
We'd like to see some extra body thickness in a perfect world. The door is 5 1/8 inches thick, which helps to negate unauthorized entry, but we'd like to see an improvement to the 1.75 inch thickness of the safe walls. 
You can adjust the interior to meet your needs. Many of the shelves included with this MSC gun safe are fully adjustable. Each shelf is fully upholstered as well, so you won't have to worry about scratching your firearms. We would recommend placing a dehumidifying agent within the safe as you store your firearms, however, to avoid any needless corrosion.
You'd easily pay double to receive a similar gun safe from a different manufacturer with the included features that this Mesa Safe Company 14 long gun safe provides. It looks great, does the job it was built to do, and we believe you'll find the investment will continue to pay dividends for years to come.
Click here to check pricing on Amazon and get an awesome deal on the Mesa Safe Company 14 Gun Burglary and Fire Gun Safe.