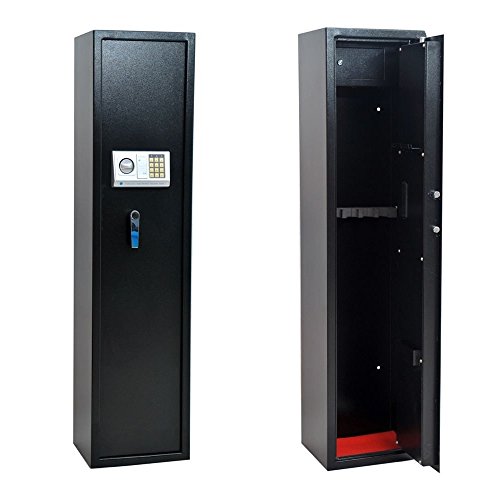 The first thing that stands out about this particular gun safe is its overall sturdiness. The Homegear 5 Rifle Electronic Gun Safe offers users a door that is 4mm thick and walls that are 2mm thick for an appropriate level of security. It can stand alone or you can mount it to studs in your wall for a more permanent security solution. There's enough room for 5 rifles, but it's closer to 3 if you store them with their optics.
Here are the impressions that we noted about our time with this gun safe so you can maybe see if it has the ability to meet your needs.
The Built-In Double Lock Is Its Best Feature 
Sometimes you just need to put some things behind two locks instead of one to make sure they stay safe. Instead of purchasing a separate portable safe to store inside of this one, Homegear has equipped their electronic gun safe with a separate lockbox at the top of the unit. It's the right size for a pistol, handgun, or valuables that you'd like to keep separate from your other belongings.
The Lock Can Be a Bit Touchy
There are a couple of very forthright public reviews that state you can easily open the lock on this gun safe by forcing the handle into a specific position. With enough force, anyone can break into just about any safe – that's just a fact. We used the method described in those reviews in an attempt to pop open the door and although we did get some handle movement after about 15-20 minutes, the lock held firm. If we'd put in another 20 minutes, the lock probably would have given way. We're more concerned about the keypad placement – bigger fingers can mishit the numbers and that could be touch-and-go during an emergency.
Get Your Own Mounting Hardware
There are anchors included with the purchase of this gun safe, but they aren't very user friendly. A quick trip down to the hardware store will proactively stop a really bad headache from coming your way. The same could be said of some of the other components that are made from plastic with this particular gun safe. Yet at this price point, for what you receive, the value proposition is still a pretty good one.
Think of It as a Security Cabinet 
Will this gun safe protect your firearms from a fire in your home? Doubtful. It definitely won't protect your documents or other media. What it will do is stop curious fingers from playing with your rifles and make it difficult for an intruder to access your firearms if they get to the gun safe before you do. If we could change one thing about the design of this safe, it would be to add a protective layer over the reset switch – something you can do on your own.
Is this the best gun safe for you? If you need to store a few rifles safely, then this is one of the few affordable solutions we would trust. Give it a look today to see if it will meet your needs and we think your conclusion will be the same as ours.
Click here to check pricing on Amazon and get an awesome deal on the Homegear 5 Rifle Electronic Gun Safe.