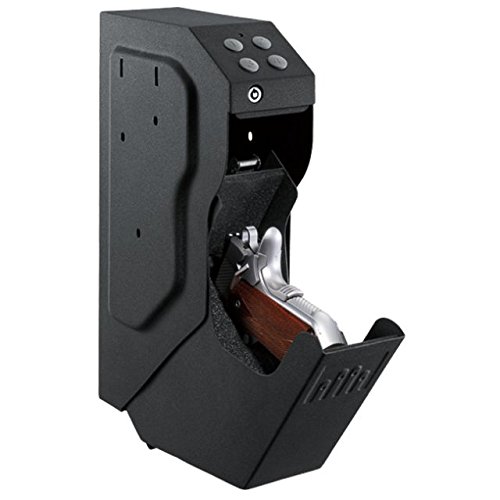 Offering users a fast access digital keypad, 18 gauge steel construction, and multiple mounting options, this looks to be one of the best gun safes on the market today. The GunVault SV 500 is designed with a fast activation drop down drawer that is intended to give users faster access to their firearm when the need arises. You also have a backup override key just in case.
Does the GunVault SV 500 SpeedVault live up to its expectations? Or is it more of a product that was marketed well to the defensive firearm industry? We'll let you decide because here is a summary of our experiences with this gun safe.
We Love the Mounting Flexibility 
You can mount the GunVault SV 500 in corners, along walls, or even at the foot of your bed if you want. As long as the surface is strong enough to hold the gun safe, then you can place a defensive firearm anywhere in the house safely. We'd like to see a place or two for an extra screw/bolt in a perfect world, but that's our only complaint in this area.
You Can Actually See Your Firearm at Night 
When you've got a possible intruder in your home, time is of the essence to protect yourself. Unfortunately in the dead of night, there is rarely much light at your disposal. The GunVault SV 500 is equipped with a nice floodlight that will let you quickly grab your gun and go. Of course an intruder can also see this light and it's really bright after you've become accustomed to the dark, but overall we see this as a positive feature.
The Design of This Gun Safe Is Rock Solid 
Although this gun safe doesn't have the thickest steel in the industry today, the design more than makes up for it. There is virtually no place where someone could quickly pry open the GunVault SV 500, so you can rest assured that your firearm (or other valuables) will be protected. Will it withstand someone trying to drill out the safe? Doubtful. For immediate need, however, it gets the job done and the mounting hardware won't let someone pry it off your wall very easily.
Some Good, Some Bad with the Locking Mechanism 
The keypad entry is very easy to program. This makes it really easy to protect a firearm and have access to it – assuming that you remember what your entry code happens to be. If you can't remember your code and you lose your backup key, then you're not getting into this safe unless you have the upgraded biometric lock. There's a low battery warning, but it only works if you are actually using the keypad. The keypad also makes noises that could alert an intruder, but these can be turned off with a little work.
Overall we feel like the GunVault SV 500 is one of those gun safes that everyone should have in their home if they have a defensive handgun they need to protect. You can place this safe anywhere, quickly access your firearm, and the vault is padded to prevent damage to the firearm as well. We highly recommend it.
Click here to check pricing on Amazon and get an awesome deal on the GunVault SV 500 SpeedVault Handgun Safe.