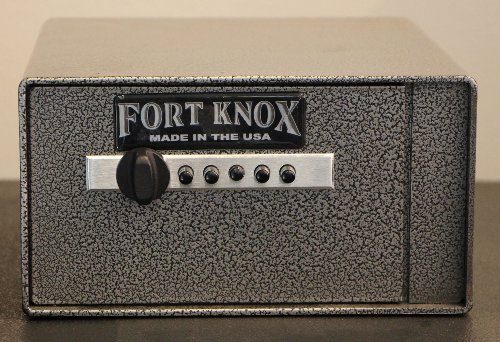 The problem with many of the pistol safes that are on the market today is that they're only large enough to hold one gun. There are some that hold 2-4 guns, but they tend to be made from inferior materials or have a lousy locking mechanism so you don't really maximize your firearm protection. The Fort Knox Original Handgun and Pistol Safe is large enough to hold two standard service handguns or three subcompacts plus the magazines so you have an effective all-in-one solution.
The Features of the Fort Knox Pistol Safe 
The primary feature of this particular safe is the heavy duty nature of its construction. Made from 3/16" 10 gauge steel, you won't be able to open up this safe unless you use an acetylene torch or you punch in your access code. The Simplex mechanical locking device features a push-button design that will quickly open thanks to the gas-strut assisted door. For this size of a pistol box, you will struggle to find a safer solution.
Here are some of the additional features we felt was of note after giving this Fort Knox handgun safe a test run.
It has an antiqued silver coat finish that helps to give the gun safe an added level of durability for everyday use.
It can be mounted to a drawer, shelf, or the floor for an added level of strength and security if needed so a thief can't just pick up your pistol box and run away with it.
There is a foam interior lining, which the manufacturer describes as being similar to an egg crate, to give your guns a better level of protection.
The bottom line is this: you're going to get what you pay for. Many might see the price point of this Fort Knox gun safe and cringe, but it is a great safe that will last a lifetime and has a warranty that proves it.
Is This Gun Safe Better Than a Biometric Safe? 
Everyone has a personal preference when it comes to gun safe accessibility. Some people prefer a lock and key. Others like the modern security of a biometric lock that scans a fingerprint. This Fort Knox gun safe offers users about 1,100 different combination possibilities with its push-button design, which makes accessing your gun about as easy as possible even if the middle of an emergency. The lock itself is a bit difficult to change the combination on once set, but that's really the only drawback of this particular gun safe.
You could cheap out and purchase a gun safe for around $50 and be satisfied with the results. You could also invest in a safe that is just as good as your defensive firearm and not have to worry about what happens to it when you're not at home. It isn't a fire resistant box and it isn't waterproof, but it is sturdy and reliable and sometimes that's all you need.
Click here to check pricing on Amazon and get an awesome deal.