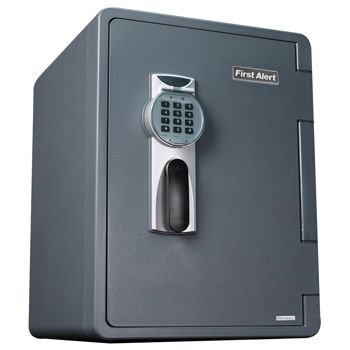 With 2.14 cubic feet of storage capacity, you may find that this durable safe could meet your firearm storage needs today. The First Alert waterproof fire safe has one of the best fire ratings in the industry today, giving you an internal temperature of 350F or less for 60 minutes or more even if the external temperature is 1,700F. Forget about water getting into this safe, although internal condensation is an issue which must be considered.
Could this be the best gun safe to meet your specific needs? Here is a look at the features we found to be useful with this particular First Alert model.
Waterproof really does mean water stays out. Many "waterproof" gun safes say that they can withstand 2-4 feet of water for 30-60 minutes. That's not waterproof. This First Alert safe can be fully submerged in water and still protect your firearms.
The keypad locks you out with the wrong code. Once you've programmed your electronic lock on this First Alert safe, it is designed to lock people out if the incorrect codes are used. If that happens, the only access available is the emergency override key, which means you have less to worry about from a thief trying to hack into your safe.
Take a close look at the hinges. First Alert has equipped this safe with patented Delta hinges, which makes it virtually impossible for someone to pry the door open from that point. When you combine this feature with the interior shelves that are removable, a hanging key rack, and a storage pocket in the door, you can even store media items within this safe and have it be protected from harm should the need arise. The shelves are made from plastic, however, so they may not be suitable for every firearm.
It comes with a carrying handle. Weighing in at over 130 pounds, this is not the lightest of portable safes that you'll ever come across. Some might say the handle even encourages a thief to try to steal the safe and crack it open later. Ultimately we feel like this is a feature that each person needs to decide on whether it is useful or not. We liked it because it made placing the safe into a permanent home easy – but we can also see why some may not want to have it.
You'll probably just take the plastic combination cover off. The cover that "guards" the combination is made from plastic. It makes an irritating noise when it clunks back into place and the sturdiness of the cover itself we feel is somewhat questionable. A simple fix: you could take the cover off so you don't have to flip it open whatsoever.
At this price point, you'll struggle to find the waterproof and fire resistant features in any safe being offered today. For that reason alone, we would encourage everyone to give this safe a trial run. It is effective, durable, and has enough space to store most handguns or pistols with ease.
Click here to check pricing on Amazon and get an awesome deal on the First Alert Waterproof Fire Safe.