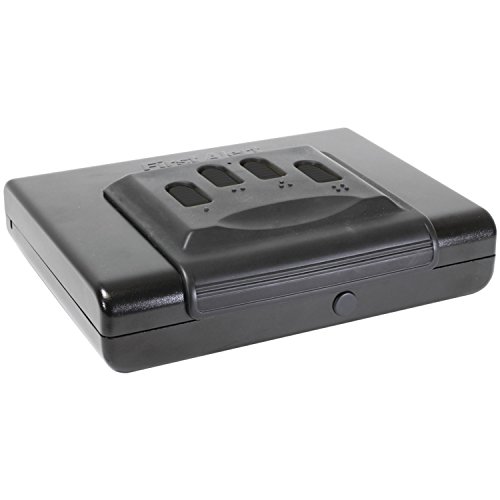 We feel that there are three qualities that every portable gun safe should have.
It should be easy to access.
It should be lightweight for easy portability.
It should have strong security features.
The First Alert portable handgun safe is designed to accommodate most modern pistols or handguns that you may need to take along with you. It meets the standards that most concealed carry permits require for keeping a firearm in your vehicle, yet incorporates padding within the interior that actually works to stop movement damage that can happen when you're taking your firearm with you.
This might be the best gun safe in regards to making a great first impression. Does that impression change once you begin to use the safe? Let's take a look.
It Is Made From 18 Gauge Steel 
This portable gun safe is made from the same quality of steel that you'll find in many top end safes that you'd mount at home. You'll also receive a steel cable that will help you to secure this safe in the trunk or stow-and-go sections of your vehicle. We love the fact that First Alert also included mounting holes so that you can bolt this portable safe to your vehicle or even to a wall at home if you prefer.
Not many gun safes in this category could be described as "solid." This one can be. Outside of the small mounting holes for the 1500 lb steel cable, there is no way to really access this gun safe outside of going through the lock. That mounting design also means that this safe isn't water-resistant, so you'll need to keep it away from all moisture to keep your firearms safe.
It Has a Reliable Locking Mechanism 
To be fair, First Alert created a portable handgun safe that looks like it has been equipped with a biometric lock. It is not. This safe has a "no look" keypad where you input up to an 8 digit code in a way that someone would have to be looking directly at your fingers to determine what the code happens to be. The keypad is silent when entering the code as well, so if you are opening it up for defensive purposes, the only thing an intruder can hear is the locking mechanism opening up.
There Is a Surprising Amount of Capacity 
With 3 inches of depth, this 10×12 portable gun safe weighs just 4 pounds when empty, making it very easy to carry with you anywhere. It can easily hold one large handgun; yet can safely store two smaller pistols without damage as long as you create a barrier within the safe to prevent your firearms banging into each other. The spring locking mechanism doesn't get in the way, works reliably, and it keeps curious fingers away from something they don't need to be handling.
The First Alert portable handgun safe is easily one of the best gun safes in this category. If you're looking for a safe and secure way to transport your handguns or other valuables, we would strongly recommend taking a long look at this option. We believe it can get the job done.
Click here to check pricing on Amazon and get an awesome deal on the First Alert Portable Handgun Safe.