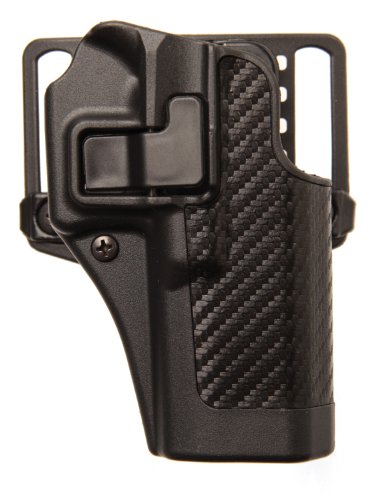 Having a holster with flexibility can be a good thing, but it can also be a bad thing. Sometimes that flexibility stretches out too far and your firearm can be so loose that it falls out of the holster. It can also be so tight that your entire holster comes with your firearm when you draw it. The Blackhawk Serpa CQC carbon fiber concealment holster provides you with a custom molded holster that has been specifically made for your firearm.
The advantage here is clear: when your gun perfectly fits in your holster, you can just draw it when necessary without worrying about anything else.
This Is a Level 2 Retention Concealment Holster 
What we love about this particular holster is the automatic locking mechanism it contains. When you insert your gun into the holster, the Serpa lock will click to let you know that your firearm is truly secure. You can also choose a matte option for your holster if you prefer and it comes with either a belt loop or a paddle platform so you can conceal your firearm as you prefer.
The draw gives you a full grip that lets you use your preferred technique. You won't have to practice new drawing techniques when you invest into this holster.
There are some limitations we discovered of which you should be aware. For certain firearms, we noticed that the Blackhawk CQC holster will only work with round trigger guards or specific sub-models within a manufacturer's regular line. Some compacts also have a little overhang over the muzzle.
Can This Really Be a Concealment Holster? 
There is one other key point that should be mentioned. When using the paddle system for this holster, we noticed that there is a tendency for the firearm to ride pretty high on the hip. It also protrudes just a bit, making it difficult to tuck inside the pants for some specific firearms – especially a Glock. You could wear this outside the waistband and cover the firearm with a jacket or sweatshirt, but to wear this as an IWB holster, you'd want to have a firearm with a slimmer profile.
You'll also want to double-check the exact type of firearm from the list provided by the manufacturer before you finalize any purchase. Because each holster is custom formed for the firearm, you must have an exact match for your concealed carry needs to be met.
We like the added security with the finger retention. It can stand up to the wear and tear of daily use with ease. Not many products today perform as expected, but this holster exceeded our expectations. The Blackhawk Serpa CQC carbon fiber concealment holster earns our highest recommendation because it keeps your firearm secure, is comfortable to wear, and automatically puts you into the best defensive posture possible should you need to draw.
Click here to check pricing on Amazon and get an awesome deal on the Blackhawk Serpa CQC Carbon Fiber Concealment Holster.