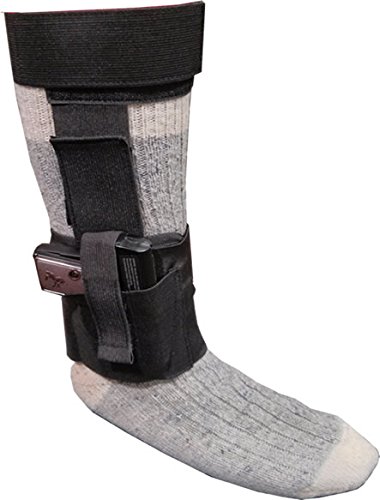 Sometimes your backup needs some backup. For those times when wearing just one piece won't do or for when your fashion choices won't hide a shoulder, belly, or IWB holster, then this is a great choice to still keep yourself protected. The TufForce Padded Concealed Ankle Holster will wear on either leg, hold a small-to-medium firearm securely, and can be worn right against the skin comfortably. That way you can always have a defensive firearm within reach. 
The Benefits of the TufForce Ankle Holster 
The elastic nature of this holster is what really provides users with a benefit when they are exercising their rights to concealed carry. The materials have enough give to them that you can carry virtually any type of firearm that is medium-sized or below with comfort. Whether you've got an XD9 you like to carry or you're old-school with a .38 Special, at this price point you won't find a more flexible option for a holster.
Here are a few more observations from our trial run with the TufForce Ankle Holster that may be of use.
It is quite tight around the ankle. If you've got a larger leg size, then this holster might cut into your legs a bit. Some folks might not be able to wear calf socks with this holster on because it's more for people with a medium build.
It requires the right pants. Jeans are a tough fit around this holster. We found khakis tend to hide the holster the best.
All day daily wear is a grind on this holster. If you're wearing this holster 8-12 hours every day, you will find that it may begin to degrade over the course of 6-8 weeks, as the stitching tends to work its way out.
We see this as a great training option so you can get used to carrying an ankle holster. Because the draw and weight is different when compared to other holsters, use the TufForce Ankle Holster as a way to see if this concealed carry option is right for you.
Safe and Secure, But With a Twist 
We really loved how secure this holster is along the leg. It doesn't cause the firearm to bounce when it is strapped in, but that safety and security does have some limits. If you have an active job or you want to arm yourself while you take a jog through the local park, this holster might not be your best option. For administrators, office personnel, or that casual afternoon with the family at the mall, the TufForce holster performs quite well.
After some use, we discovered that the holster does stretch out a bit, helping to ease the cutting experience after a couple of weeks. This also makes the holster feel a bit loose and insecure for some users.
At this price point, finding an ankle holster that can work for all day wear without requiring consistent adjustments is difficult. The TufForce Concealed Ankle Holster might not be perfect, but it does provide you with some flexibility for your concealed carry rights. That's why it earns our recommendation.
Click here to check pricing on Amazon and get an awesome deal on the TufForce Padded Concealed Ankle Holster.