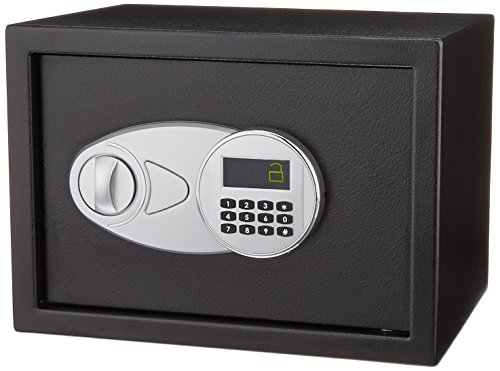 When push comes to shove, the best gun safes are often nothing more than a glorified lockbox. You get charged a premium price for your product simply because it has been "designed" to hold your firearms. AmazonBasics has a security safe which will provide you with 0.5 cubic feet of storage space that is protected by an electronic lock and two backup keys. It might not have a felt interior, but the floor of the safe is carpeted to protect your firearm from scratching.
Then there's the price – at just $50, it's easy to see why this security safe is often the #1 bestseller in its category. We decided to give this safe a test run and here's what we found from our trial period.
You Can Store Up to 4 Handguns 
There's a removable shelf that comes with this gun safe, giving you enough storage space to comfortably store up to 4 handguns. We could fit 2 1911s in this security safe with the shelf in place. The shelf isn't carpeted, however, so you might want to install some felt on it or protect your firearm in some other way if you plan on using it in that fashion.
Security Is Pretty Solid
AmazonBasics has equipped this small little safe with two live-door bolts and concealed hinges that make it virtually impossible to pry this thing open. The digital keypad can be reprogrammed with your own unique passcode whenever you feel the need to update it. You'll need to open the safe the first time with the override key, but then you can use it however you wish and find yourself satisfied with what this product can do.
There's a 4 Point Mounting Design
You'll likely want to mount this security safe if you're planning on using it to store firearms. There are four holes in the back of the safe and more in the bottom of it, allowing you to place it on a floor, wall, or shelf pretty easily. You have direct access to the contents of the safe through these holes, which is why this protection is not fire resistant or waterproof. Mounting it improves these qualities and helps to deter people from just picking up your safe and taking off with it.
Quality Control Issues? 
With our trial run, we had no issues in using this security safe. In the public reviews, however, there is a consistent complaint about the safe arriving with a door that is misaligned. Take advantage of the return policies to exchange your security safe if this happens to you. The benefits that this safe can provide you far outweigh the small risk that comes from this manufacturing issue.
Sometimes the affordable solution also happens to be your best option. For the AmazonBasics Security Safe, it might not be the best gun safe solution for everyone, but it could meet your specific needs. Because of this value and the level of security it provides, we believe it easily qualifies as one of the best gun safes available today.
Click here to check pricing on Amazon and get an awesome deal on the AmazonBasics Security Safe.