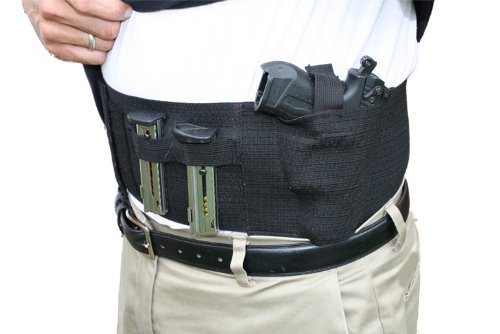 When you've been approved for a concealed carry permit, it becomes important to find a holster which is comfortable, but still keeps your firearm accessible. We found that the AlphaHolster Belly Gun Holster does just that. It wraps around your belly just above the waistline of your pants, allowing you to securely carry a firearm in a position that is easy to draw. You then just wear a shirt over the holster that allows you access to the firearm should it become necessary.
Made from lightweight and ventilated elastic, here are some of our observations from using this holster over the period of a couple weeks.
Expect your belly to get a bit sweaty by the end of the day.

The elastic is comfortable and the holster can be positioned for a right-handed or left-handed draw. What you've got to get used to is the added sweat that forms around your belly, especially if there is a little extra belly there. You don't feel restricted by the holster, but you will want to change your clothes after a long day.

You can carry up to three mags. This holster has placement options for two spare magazines. You can also choose to carry your firearm loaded for a third magazine. An elastic strap comes over the back of your firearm above where you would load it to keep your weapon secure. The spare mags then drop into similar holders. The spares feel a little loose at first, but you get used to it. You could purchase a couple Velcro straps if it becomes too bothersome.
Many people will know you're carrying if you don't dress right. This is a form-fitting holster. If you're wearing a tight shirt over the holster, people will be able to see the bulge. From our experience, we recommend wearing an un-tucked dress shirt or Polo over the firearm, followed up by a jacket of some type, to reduce the appearance as much as possible.
It might dig into some folks. We gave this holster to one of our larger colleagues and he said that it wasn't a bad fit unless he had to bend or sit with the holster. Then it would dig into his stomach and leave red marks like a pair of pants does when they're a size too small. On the other hand, it's also big enough that some of the skinnier folks will struggle with the single-strap band that keeps the holster in place because the elastic tends to curl with wear.
The mag loops are useful for other items as well.

We found that the magazine holders in the holster also worked pretty well for carrying flashlights, pocket knives, and even a spare packet of Skittles if that's you're thing. It's this addition, in fact, that really makes this one of the best holsters on the market today.

 
We feel like the AlphaHolster Belly Band Holster has hit a home run with this product. Some users might see a drawback here or there, but overall the experiences we had with this product were outstanding. If you're looking for a comfortable concealed carry holster, this is a great place to start the shopping process.
Click here to check pricing on Amazon and get an awesome deal on the AlphaHolster Belly Gun Holster.