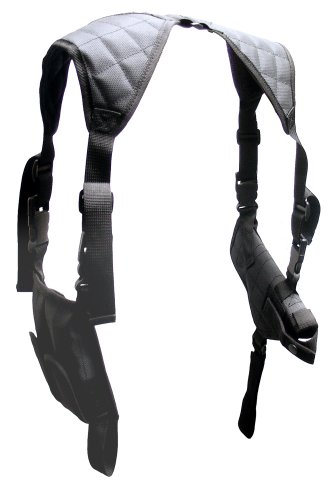 The problem with shoulder holsters is that they always tend to be a bit bulky. They're comfortable for sure and they securely hold your firearm and some spare mags, but people know that you're carrying and that defeats the purpose of a CCP. The UTG Universal Shoulder Holster is a tactical holster that provides a reasonable amount of quality for a fair investment. You're not going to get 20 years of daily wear out of this thing, but it could be the answer you need for an immediate solution.
Is the Universal Design Really Universal?
The UTG Universal Shoulder Holster won't work for all types of firearms. We found that the service firearms tended to have the best results and larger guns, like a Glock, tended to do well. Some firearms sit a little awkwardly in the holster, but are still secure and you can get used to carrying them. It isn't going to provide a precise fit, but that's to be expected with the universal design.
It is important to recognize that this is designed to be a tactical holster. You'll need to get through a Velcro strap that has secured your holster in addition to a thumb break in order to draw your firearm. This might be a deal-breaker for some folks, but if that's the case, you shouldn't be shopping for that kind of design in the first place.
Some folks might be concerned that the size and shape of this holster can give away the fact that they're carrying. We did not have that problem at any time while giving this holster a trial run. We found that it was easy to adjust for different body sizes, simple to put on, and it was rather comfortable throughout the day.
Some Things of Which You Should Be Aware 
The one issue we noticed with this holster was that heavier firearms tended to have a bit of a "bounce" when secured into this holster. You can get rid of most of that by fiddling with the adjustments until it gets strapped down enough, but even then it can still feel a little awkward on the first couple days of wear.
We found that this holster tends to work best for folks we'd describe as a medium to extra-large build. Even if you're above 300 pounds, this holster is still going to be fairly comfortable for you. It's the slimmer and shorter in stature that are going to have the most difficulty with this particular holster. It will still work, but you will likely feel that it won't have the "perfect" fit and that might cause some with a smaller build to avoid wearing the holster.
It also takes a bit of a learning curve to deal with how this particular shoulder holster straps into your belt. The first couple of times putting this holster on was pretty awkward until we got the hang of it and then we were good to go. Take some extra time to just get the feel of how this holster slips on and you'll avoid many of the wear issues noted in the public reviews.
The shoulders are padded, but not padded well. You'll still feel the weight of your firearm.
The UTG Universal Shoulder Holster might be at an entry-level price, but it still has some good long-term value considerations. Give it a try today and we think you'll be pleased with the results.
Click here to check pricing on Amazon and get an awesome deal on the UTG Universal Shoulder Holster.